In recent years, coconut-related products have seen a remarkable increase in popularity as the globe moves toward healthier and more organic products. With a vast copra nut area, Vietnam is now one of the ten most productive countries in terms of coconut products. To keep up with the global ever-growing demands, the country has been investing in technology and human resources to step up the export of related products. In this guide, we will walk you through three best types of coconut products to buy in Vietnam. Read on to find out more what you need to know before importing Vietnam Coconut.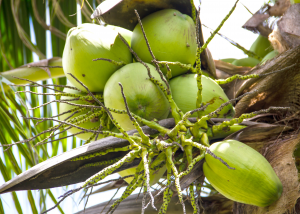 1. A glimpse into Vietnam's coconut kingdom
Located in the south of Vietnam, Ben Tre is renowned as the country's coconut capital, where local farmers have been subsisting for generations on coconut trees. The province is the center of alluvial soils gathering from the Mekong Delta, thus an ideal place to provide copra nuts in top notch quality and quantity recognized by the world. Ben Tre now boasts the largest coconut-growing area in the country at 74,000 hectares (182,800 acres), of which Giong Trom District hosts more than 17,000 according to MARD.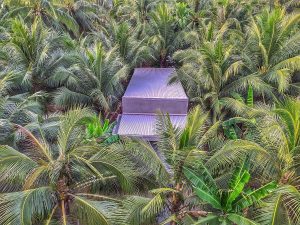 A coconut grove in Giong Trom District, Ben Tre province. Source: Vnexpress
Compared with other plants, coconut trees in Ben Tre have the highest value. The fruit is used to make everything, from food and drinks to household utensils, fine arts items and to build houses. 
Due to Vietnam's membership in several new generation free trade agreements in recent years, coconut companies in the country, and in Ben Tre in particular, have had more opportunities to develop not only in the domestic market, but also to expand exports to other countries and territories around the world. Many companies for processing coconut goods (desiccated coconut, virgin oil, charcoal, coir, candy, cleaning soil, handicraft, etc.) have been established in provinces, contributing to the growth of the coconut industry by increasing the product's value added.
2. Vietnam Desiccated Coconut
Desiccated coconut is made from coconut meat that has had the brown coating removed. According to market demand, the white coconut meat is cleaned and cut into various sizes: fine, medium, flake, or chips. They are also graded by these cutting sizes, for example, fine grade and medium grade where fine grade is smaller particle size than the medium grade.
Many minerals and vitamins can be found in desiccated coconut. It may provide the body with essential nutrients such as glucose, acid amino acids, protein, fatty acids, iron, and phosphorus. Desiccated Coconut is suitable for usage as fillers, toppings, and ingredients in biscuits, snack bars, cakes, cookies, and other baked goods.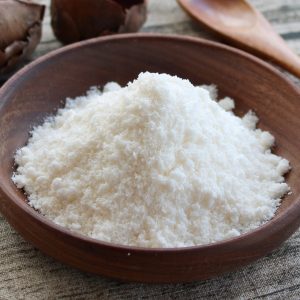 Fine grade Vietnam desiccated coconut
Regarding the production, a thousand nuts should provide around 130 kg of desiccated coconut. This is an arduous procedure since the husk, shell, and skin of the coconut are removed manually or semi-automatically, depending on current technology. The processes of desiccated coconut can be summarized as below:
Removal of coconut husk,

Removal of coconut shell,

Removal of thick brown coconut skin,

Washing of white coconut meat to remove foreign material,

Blanching of white coconut meat to reduce the number of microorganism to the safe level fit for human consumption within its shelf life,

Cutting of white coconut meat into the desired size,

Hot air blow drying the grated white coconut meat to reduce the moisture content from 19% to less than 3%,

Cooling of desiccated coconut,

Sieving of desiccated coconut to separate desiccated coconut as according to the desired size

Packing of desiccated coconut.
Desiccated coconut from Vietnam has a delicious and fatty flavor, as well as a pleasant odor and a milky white color. Its quality can fulfill the stringent requirements of markets such as Europe, America, and Japan, among others.
3. Vietnam Virgin Coconut Oil
Coconut oil is an edible oil made from the kernels of mature coconuts that has become extremely popular in recent years due to its numerous health advantages. Coconut oils are typically available in two varieties – virgin and refined oil. Virgin coconut oil (VCO) is produced by cold-pressing the liquid from the coconut meat, later extracting the oil from milk and water and has a milky appearance. 
People prefer using VCO for personal care purposes like hair care and moisturizing skin, lips, eyelashes, makeup, body massage as well as drinking it raw. Because of its creamy and tropical flavor, besides cosmetic use, coconut oil is also used in foods such as vegetable oil (stir-fry, salad dressings, etc.). It is also a good choice if you are adding it to smoothies, coffee, and shakes. 
Virgin Coconut Oil
In Vietnam, many coconut processing companies use a modern VCO production technology that results in high-quality export products. To improve the quality of Vietnam VCO, a project on extracting coconut oil with non-heating technology was implemented as part of the national program on technology renovation many years ago. With a centrifugal method, no high temperatures, and no chemicals used in the production process, Vietnam VCO quality meets high standards of not only the Asia market but also in other strict markets such as Europe, America, and Japan.
4. Vietnam Coconut Milk Powder
These products could be named differently in the market. Coconut milk powder, coconut powder, creamed coconut powder or dried coconut extract are a few samples. Basically, coconut milk powder is a fine, white powder manufactured through the spray drying process of coconut milk concentrate, which is pressed from ripe fresh coconut meat. The product after all has white color and a nice odor of natural coconut. According to different market demands, Vietnam coconut milk powder has different fat content such as 40%, 60% or over 65%.
2000 coconuts would yield about 1 ton of coconut milk powder. The production of coconut milk powder is as follow: 
Breaking the dehusked nuts into halves. The split nuts are deshelled to separate the kernel. 

Comminuting the kernel into small gratings using a hammer mill. 

Pressing the grantings, continuous screw pressing to extract the milk. The coconut milk thus obtained is filtered by passing through a vibrating screen. 

Spray drying the coconut milk into a fine milk powder using a spray dryer. 

Packing the final product in Aluminum foil packets in various sizes as per customer requirement.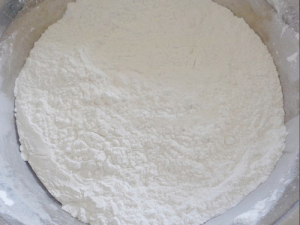 Coconut milk powder is packed in bulk bag for export
Coconut Milk Powder is a delicious and nutritious non-dairy creamer. The creaminess and naturally occuring sweetness make it a superstar in the kitchen. There are so many delicious uses for coconut milk powder. It is an excellent ingredient for dry applications, confectionery items, or any recipe that calls for coconut milk, such as creamy soups, smoothies, baked goods, iced drinks, yogurt, sauces, and beverages.
Viego Global – Your trusted sourcing partner in Vietnam
At Viego Global, we know it's more than just finding the right Vietnam supplier since every step of the supply chain requires proper implementation in order to ensure Vietnam quality commodities are well delivered to clients. We always try our best to determine the best suppliers based on customers' needs. During research on potential suppliers, discussion and factory visits, we inspect every single thing from business license, capacity, to past orders as well as the equipment and the workers' competence. This is why Viego Global makes sure that you can reach the best Vietnam suppliers at the most competitive price.
Apart from Coconut Products, we also provide insights on other Agricultural products from Vietnam. Jump to: Vietnam's Coffee Market, Vietnam's Pepper Market, Vietnam's Cashew Market , Vietnam's Rice Market and also check many other tips for sourcing from Vietnam.