Vietnam is the world's second largest country exporting cassava and cassava-made products. According to MARD, total cassava-growing areas nationwide reached 560,000 hectares, which produces nearly 9.4 million tons per year. Of which, about 70% are processed into dry tapioca starch and chips for export. In recent years, Vietnam tapioca starch has shown great potential both for export and domestic consumption due to its good quality and competitive price. This guide will guide you through the tapioca starch market in Vietnam. Read it to learn more about how to source and import Vietnam Tapioca starch.
1. A glimpse into the local production of Vietnam's tapioca starch
Tapioca starch (or cassava powder) is a fine white crystalline product extracted from cassava tubers.  Cassava is a nutraceutical root vegetable with a clean and neutral flavor, in which starch is the main constituent. Depending on the region of growth, cassava plants may also be known as mandioca, yucca, or tapioca. In Vietnam, cassava has rapidly changed its role from a food crop to an industrial crop, with a high rate of growth during the first years of the 21st Century.
a . Growing regions in Vietnam
It could be said that Vietnam is a strong producer of tapioca starch, owing to its abundant natural resources and suitable weather, which are ideal for mass-production of cassava plants. Cassava is cultivated a lot in the following provinces:
  In the South: Tay Ninh Province, Binh Phuoc Province, Dong Nai Province, Binh Thuan Province.

  In the Central Highlands: Gia Lai Province, Daklak Province, Dak Nong province.

  In the Central Coast: Quang Ngai Province, Binh Dinh Province, Phu Yen Province, Quang Nam Province, Nghe An Province, Quang Tri province.

  In the North (smaller quantity compared to the South & Central Coast): Yen Bai Province, Son La Province, Hoa Binh Province.
Particularly in Tay Ninh Province, there are 65 factories processing tapioca starch with a total annual capacity of 6.4 million tonnes of tubers. The province is now one of Vietnam's largest producer, grower, and exporter of cassava products.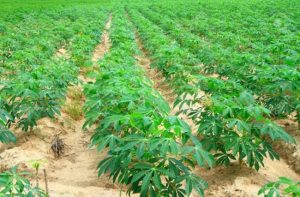 A cassava growing farm in Vietnam
b. Cassava's crop in Vietnam
In Vietnam, farmers typically plant their main cassava harvests between February and April. Harvesting time varies by area, depending on climate conditions.
In the North, growing cassava in March is the most convenient time when temperature begins to warm with spring rains, making it ideal for plants to grow and generate tubers.
While in The North Central region, January is the best month for cultivating cassava. Heavy rains will kill the cassava plant if they plant earlier.
Cassava is planted in the South Central area from January to March, when temperatures are generally high and rain is common. Tapioca is planted earlier than 1-2 months in certain regions, but it is also harvested in September and October.
In the Highland and South, farmers grow cassava mainly at the end of the dry season. Rainy season in April or May is the ideal condition, when there is stable high temperature and regular rain.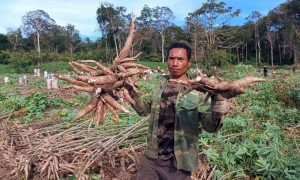 Farmers harvesting cassava in the central province of Binh Thuan, January 2021. Source: VnExpress/Viet Quoc.
2. How is Vietnam tapioca starch processed?
According to the Vietnam Cassava Association, there are 120 cassava starch factories in the country with a processing capacity of over 15.5 million tonnes. In the recent years, cassava cultivation has become more cost-effective due to new, high-yielding cassava varieties and more sustainable production techniques, particularly in the Southeast.
Vietnam tapioca starch is produced mainly by the wet milling of fresh cassava roots. Cassava tubers that are mature and of good quality can yield about 25% starch. Per 100 kg of cassava roots, roughly 60% starch and 10% dry pulp may be recovered from dry cassava chips.
The process may be described into 8 steps as follows:
Weigh the fresh cassava roots to determine the starch content

Use the rotary screener to remove sand and impurities.

Peel and clean it with the peeling and cleaning machines, then slice out the root tails.

Place the freshly cleaned cassava in the Rasper, then decant to remove the protein.

Remove the fiber from the slurry by passing it through the screen. Sun-dried fiber is offered for use in animal feed.

Separate the fine fiber and impurity by Centrifuge machine.

Dry the starch in the hot-air dryer until it retains only 12-13 percent moisture and is ready for sale.

Sift the starch and pack the fine powder into the sale sacks.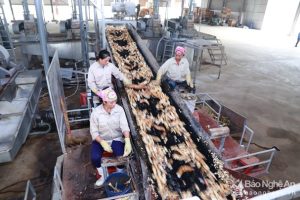 Inside a cassava processing factory. Source: baonghean
3. Vietnam tapioca starch classifications 
Tapioca starch can be divided into two main types: (1) Native tapioca starch: Used in the production of animal feed, foodstuffs, etc.; (2) Modified tapioca starch: Made from native tapioca starch with the addition of additional chemicals to produce better grades for usage in the food, paper, and textile industries.
In Vietnam, there are the following popular types of modified tapioca starch:
Alpha Starch (Pregelatinized Starch)
Pre-gelatinization is the simplest modification, which is accomplished by cooking and drying. Pregelatinized starch is widely used in pharmaceuticals because it is bland, odorless, and capable of digestion.
Modified starch E1404 (oxidized starch):
Used to increase recovery rate of pulp in the paper manufacturing industry, waterproof paper.
Modified starch E1412 (Distarch phosphate):
Used as paste and stability increasing agents in food products, fillers for printers, paper industry, producing instant noodles, sausages, fish-ball, meat-ball, etc.
Modified starch E1414 (acetylated distarch phosphate):
Used in canned foods, frozen foods, soy sauce, chili sauce, tomato ketchup, soup, gravies, yogurt, meat-ball, fish-ball, pudding and jelly, baked foods, etc.
Modified starch E1420 (acetylated starch):
Used in instant noodles, frozen foods, ham, sausage, fish ball.
Modified starch E1422 (acetylated distarch adipate):
Used in the products of chili sauce, soy sauce, tomato sauce, vegetable sauce, canned meat products, canned fish, fish balls, biscuits, pudding, yogurt, cream, etc.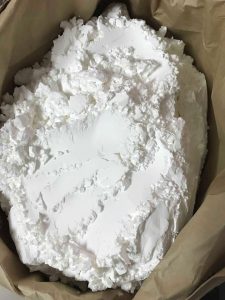 Tapioca starch is normally packed in 25kg bag for export.
4. Was the export volume of Vietnam's cassava products affected by COVID-19 pandemic?
Despite the COVID-19 pandemic, Vietnam gained growth in the export of cassava chips and cassava-made products in 2020 according to the Agro Processing and Market Development Authority.
Although the COVID-19 pandemic did have negative impact on the cassava production industry according to the MARD,  it was still one of the few agricultural products with a positive growth in export value. Data from the General Statistics Office (GSO) noted as of November, 2021, the export value of cassava rose by 65%. Export prices are also expected to remain high due to falling supply and high demand from China.
Viego Global – Your trusted sourcing partner in Vietnam
At Viego Global, we know it's more than just finding the right Vietnam supplier since every step of the supply chain requires proper implementation in order to ensure Vietnam quality commodities are well delivered to clients. We always try our best to determine the best suppliers based on customers' needs. During research on potential suppliers, discussion and factory visits, we inspect every single thing from business license, capacity, to past orders as well as the equipment and the workers' competence. This is why Viego Global makes sure that you can reach the best Vietnam suppliers at the most competitive price.
Apart from Tapioca/Cassava Products, we also provide insights on other Agricultural products from Vietnam. Jump to: Vietnam's Coffee Market, Vietnam's Pepper Market, Vietnam's Cashew Market , Vietnam's Rice Market and also check many other tips for sourcing from Vietnam.