Outdoing many Southeast Asian countries, Vietnam is currently the leading giant in cashew nuts exports in the global market for the last 17 years.  According to the Vietnam Cashew Association (Vinacas), Vietnam has maintained its position as the world's largest producer and exporter of cashew nuts in 2020, exporting an estimated 450,000 tonnes of cashew kernels worth 3.2 billion USD. Being the top producer and exporter, the country has been active in improving product quality and the value of the products. To facilitate your sourcing process, this blog article will provide you with useful information about the Vietnam Cashew market.
Take a look at our main points in this article:
1. The cashew market in Vietnam at a glance.
Located in the humid tropics and blessed with large amounts of fertile red soil, Vietnam is favourable for planting and producing cashew nuts. Cashew nut planted areas in Vietnam have mostly been allocated in the South, especially in the Southeast of Vietnam: Binh Phuoc, Dong Nai, Ba Ria – Vung Tau, Binh Thuan, Lam Dong, Dak Lak, Dak Nong. Vietnam's "cashew capital", southern province of Binh Phuoc, is home to around 170,000 ha of cashew trees, accounting for half of the country's total planting area. This province has granted its cashew as geographical indication registration to build national brand for the cashew nut.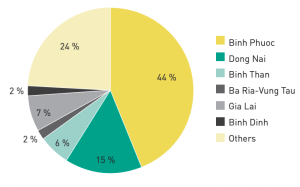 Cashew Farming Regions in Vietnam by Proportion of Area. Source: Department of Plantation, MARD
Since the early 1980s, Vietnam has been producing cashews throughout the country. Data by Vinacas shows that Vietnam began to ship cashew kernels abroad in 1990 after the association was founded. Nowadays, Vietnam had increased its presence to over 90 countries. It is currently the largest cashew supplier of the United States, China, Netherlands, Australia, Canada, and New Zealand.
In recent years, there has an effort of the Government for restructuring the industry, maintaining 300 thousand hectares of cashew trees and speeding up solutions to double productivity, even triple. The Government of Vietnam and Vinacas are trying to improve and upgrade the existing processing system, especial introduce new mechanization system in order to save on labor, and bring consistency and cost competitivenessFurthermore, to boost the industry's growth, Vinacas signed Memorandum of Understanding (MOU's) with Cashew Council and many other trading countries to support trading between the countries.
2. How are Vietnamese Cashew nuts processed?
Cashew harvesting seasons in Vietnam usually starts from January to April, or February to May, sometimes lasting until June depending on the yearly weather. The start of fruiting season is February while April can be considered as the end of the season. Usually, people only harvest once in a year, then the seeds are dried and stored in the warehouse.
Cashews are actually seeds that grow at the base of cashew apples. The cashew kernel comes in a very hard shell that cannot be cracked by hand. Therefore, to soften the outer layer for removal, and to remove the irritant oil, cashews in their shells are boiled or steamed and later sun-dried. They are then cracked one at a time, which is highly labour intensive as it is done manually or without a particular machine. Farmers often use a simple mechanical hand cracker to ensure the cashew kernel remains intact. By doing this, they help reduce production costs, making the processing price of cashew lower than it was there before. Finally, the outer skin of the raw cashew is removed leaving the creamy white nut we are all familiar with. When dry or oil roasted, the cashew turns a golden yellow color. It's also possible to buy dry roasted cashews with the skin still on. All cashew nuts are then stored by specific sizes and quality. Most kernels can be scorched or unescorted, wholes, or in pieces.
To preserve the products well, it should be packed into PE and vacuumed bags. Processing factory will use CO2 to draw the air out of the tank and replace it with nitrogen or CO2 to avoid mold and harmful microorganisms. This process is optional, depending on customer requirements. The finished products are often packed into 10-kg tin cans.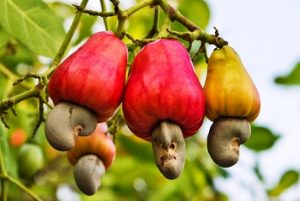 3. Quality certificates and documents required
For exporting to market with strict safety standard, in terms of cashew cultivation technology for sustainable development, various Vietnamese cashew farmers have been applying advanced agricultural production technology to obtain national and international certifications. Below is the list of key quality certificates:
Certificate of product compliance with ISO 9001 management system and environmental standards such as ISO 14001
Certificate in accordance with ISO 22000 / HACCP
FSSC 22000: Food safety certificate
VietGAP certificate
HALAL certificate (For Muslim-majority countries)
4. Vietnam cashew classifications
Vietnamese cashew nuts are classified into a number of grades according to the AFI 2012 standard: classify based on sizes and colors. Below is some features Of Vietnamese Origin Cashew Nuts Kernel:
Size: Medium and small (w240, w320,w450,w500…)
Shape: Kidney shape with the big round at the beginning and smaller to the ending.
Color: Dark skin inner and nice pale ivory color.
Flavor: Cashews have a rich nutty flavor, similar to almonds or peanuts. When pureed, it may be hard to distinguish cashew butter from other nut butter like peanut or almond.
The following are some symbols of types of cashew nuts:
W: Wholes
S: Splits
B: Butts
P: Pieces
LWP: Large White Pieces
SWP: Small White Pieces
BB: Baby Bits
In the classification system, the high-quality nuts are usually big, whole-grain, and white nuts. Varieties of cashew plants grown in Vietnam mostly produce small and medium raw nut size. Therefore, W240 might be considered as the best cashew nut of Vietnamese origin. The kernels have medium size, beautiful, pale ivory, whole-grain cashew that has between 220 and 240 nuts/pound (395 – 465 beans/kg).
Viego Global – Your trusted sourcing partner in Vietnam
At Viego Global, we know it's more than just finding the right Vietnam supplier since every step of the supply chain requires proper implementation in order to ensure Vietnam quality commodities are well delivered to clients. We always try our best to determine the best suppliers based on customers' needs. During research on potential suppliers, discussion and factory visits, we inspect every single thing from business license, capacity, to past orders as well as the equipment and the workers' competence. This is why Viego Global makes sure that you can reach the best Vietnam suppliers at the most competitive price.
Apart from Cashew, we also provide insights on other Agricultural products from Vietnam. Jump to: Vietnam's Coffee Market, Vietnam's Pepper Market, Vietnam's Rice Market and also check many other tips for sourcing from Vietnam.