Rice has always been a traditional strong export of Vietnam. As a rice production hub of the world, the country is set to remain the world's second largest rice exporter in 2021 with 6.4 million tons, according to the US Department of Agriculture (USDA). Up to now, Vietnamese rice has been eaten in over 150 countries and territories in the world, meeting the buyers in quantity, quality, packaging and delivery time. This ultimate guide will cover all aspects of the rice market in Vietnam. Read it to learn more about how to source and import Vietnamese rice.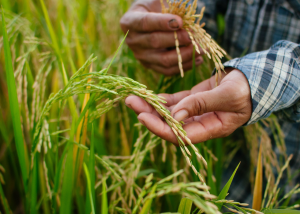 1. Vietnam's rice market at a glance
Rice production plays a vital role in the agricultural and rural development of Vietnam. It is the country's main crop, accounting for more than 90% of total cereal production according to the General Statistics Office. The two major rice production regions of Vietnam are Red River Delta and Mekong Delta. These delta regions occupy about 66% of the total rice production area and provide up to 70% of the total material paddy yield of the whole country. 
According to the Ministry of Agriculture and Rural Development (MARD), the Mekong Delta is still the largest "Rice Bowl" of Vietnam with ​​nearly 4 million hectares by 2019. This delta annually produces over 50% of total national rice production as well as over 90% of rice commodity for export.
Vietnam Area, Yield and Paddy Production, 1993-2020.  Source: GSO
According to GSO, the total paddy area and production in 2020 trend down due to urbanization, crop alteration, drought, and salinity intrusion impacts. However, rice production yields keep increasing for the past four years. In recent years, Vietnam has made a great effort in growing high productivity rice varieties and improving intensive cultivation competence of its farmers. As a result, Vietnamese paddy productivity remains stable and steadily increases every year. 
2. How does Vietnam produce and process its rice? 
Rice has been grown in the country for thousands of years. There are three main crops in Vietnam, including winter-spring crops, summer-autumn crops and summer crops. Have a look at the below table to know more about the timeline of each crop: 

Vietnamese rice production seasons
Most rice grown in Vietnam is wet-rice, meaning that it is grown in flooded fields rather than dry land as it needs a constant supply of water. Seedlings are raised in nursery beds and transplanted after 25-50 days to flooded fields. The paddy stem is submerged in two to six inches of water and the seedlings placed in rows approximately a foot apart. Farmers will then constantly check to make sure the availability of certain water levels till harvesting time. 
Transplant process
When the leaves of the rice stalks begin to turn yellow, farmers will drain and dry the paddies to prepare for the harvest. They then harvest rice by cutting the stalks with sickles. After that, they tie the stalks together and dry them.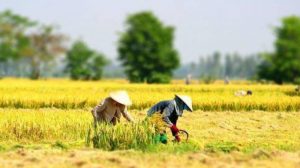 Farmers harvest rice with their sickles
Threshing separates the grain from the rest of the plant. This phase has already been highly mechanicalized. Rice threshers and husking machines have relatively met farmers' demands. After threshing, the grains are dried by exposing to the sun to be ready for storage. In recent years, the application of rice drier has been getting more and more popular.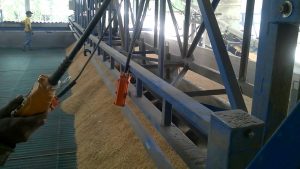 Vietnamese rice drier system
The husk is removed from the kernel during milling. The bran layer, which contains the majority of the nutrients, is sometimes stripped away throughout the process. The bran coat on brown rice is still intact.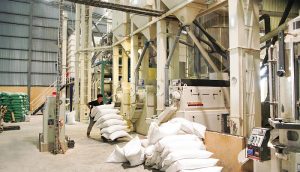 Milling machines system in a Vietnamese rice processing company
After going through these processes, rice can be selected identical. In recent times, the quality control process has been highly improved and achieved high effectiveness. The rate of unbroken rice grains is high and rice surface quality is good. Dust and noise are treated instantly inside the machines so environmental pollution can be avoided.
3. Vietnam's rice classification
Vietnam produces two major kinds of rice including sticky rice and ordinary rice of high and normal quality. The following are the classifications of Vietnamese ordinary rice varieties based on their structures, shapes, and colors. 
According to structures and shapes: There are long grain rice, middle grain rice and short grain rice.

According to colors: There are brown rice, white rice, red rice and black rice.
Regarding Vietnamese high quality rice, there are two kinds including special quality rice and fragrant rice. 
Especially for exporting, Vietnam exports the following kinds of rice: 5% broken rice polished one time, 5% broken rice polished twice, 10%, 15%, 25% and 100% broken rice. Besides, Vietnam also exports glutinous and sticky rice, ordinary rice, rice parboiling and fragrant rice.
In the current export structure, white rice still predominates. Vietnamese white rice is a competitor of Thai average and high quality rice. Regarding export categories, in 2020, the export value of white rice accounted for 32.5% of the total turnover; jasmine rice and fragrant rice accounted for 32.9%; sticky rice accounted for 29.6%; japonica rice and Japanese rice varieties accounted for 4.8% according to the MARD.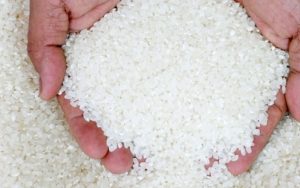 Vietnamese broken rice
4. Was Vietnam's rice export volume affected by COVID-19 pandemic?
While several agricultural commodities had major drops in 2020, the rice business saw tremendous growth. Rice is the agricultural product with the highest growth value, according to statistics from the Agency of Foreign Trade. Vietnam earned over US$3 billion from exporting rice in 2020, as stated by Vietnam Food Association (VFA), a year-on-year increase of more than 10%.
Despite the challenges provided by the ongoing COVID-19 pandemic, rice exporters swiftly adjusted their strategies and actively sought new markets, fully utilizing the benefits of FTAs. As said by Vice Chairman of the VFA, Do Ha Nam, the EU-Vietnam Free Trade Agreement (EVFTA) has created a significant potential for Vietnamese rice to enter European markets and then expand into other competitive areas. 
Viego Global – Your trusted sourcing partner in Vietnam
At Viego Global, we know it's more than just finding the right Vietnam supplier since every step of the supply chain requires proper implementation in order to ensure Vietnam quality commodities are well delivered to clients. We always try our best to determine the best suppliers based on customers' needs. During research on potential suppliers, discussion and factory visits, we inspect every single thing from business license, capacity, to past orders as well as the equipment and the workers' competence. This is why Viego Global makes sure that you can reach the best Vietnam suppliers at the most competitive price.
Apart from Rice, we also provide insights on other Agricultural products from Vietnam. Jump to: Vietnam's Coffee Market, Vietnam's Pepper Market, Vietnam's Cashew Market and also check many other tips for sourcing from Vietnam.