Vietnam tapioca starch market has been rapidly growing over the years, with the country emerging as one of leading producers and exporters of industrial-grade native manioc  starch. Sourcing tapioca starch from Vietnam could potentially be an ideal choice due to competitive pricing and high-quality products. However, shipping bulk quantities of this product from Vietnam can be a complex process, with various regulations, packaging requirements, and logistical challenges to navigate. If you're looking to trade in this market, it's essential to know the benefits and drawbacks of international trade in Vietnam's tapioca starch market. This essential guide will cover the following.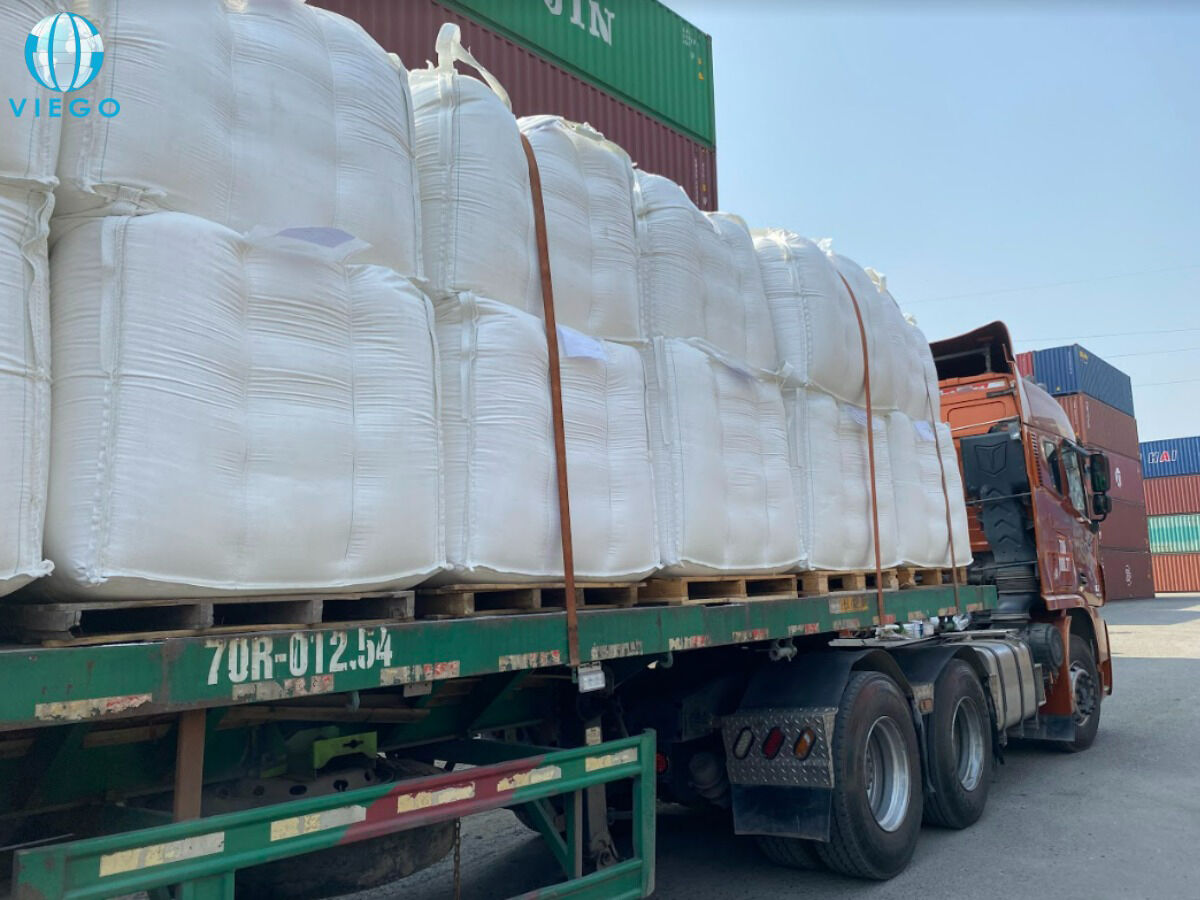 1. Optimal shipping mode for Vietnam industrial-grade native tapioca starch
When shipping industrial-grade native tapioca starch from Vietnam, one of the main factors to consider is the high volume of goods typically involved in each shipment. For this reason, sea freight is often the most practical and cost-effective shipping mode. When it comes to deciding between 20ft and 40ft containers, the choice will depend on several factors, including the volume of goods you're buying, transportation costs, and destination port. In fact, 20ft container is more common and ideal for volume in each shipment of industrial-grade tapioca starch.
Another essential factor to consider when shipping industrial-grade native tapioca starch is packaging. Popular packaging options for this product are typically 500/850 kg jumbo bags and 50-kg PP bags, as they provide a suitable size and weight for bulk shipments while remaining manageable for loading and unloading. In addition, it's essential to make sure that your packaging is of high quality and meets all relevant safety standards to ensure the safe and efficient transport.
Nevertheless, depending on customers' specific needs, countries' regulations and circumstances, shipping mode and packaging can be customized to meet clients' request.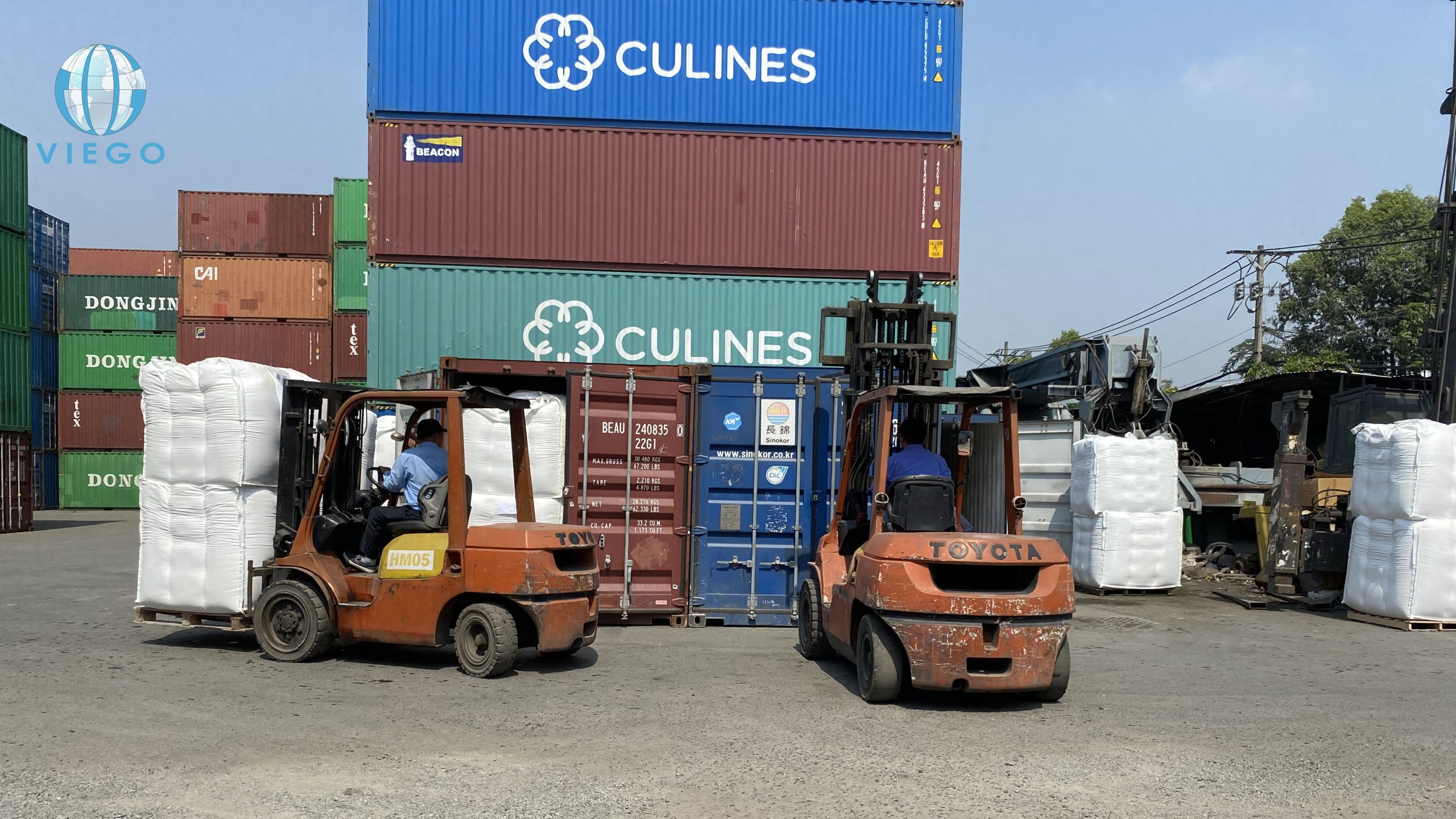 Cassava starch in 850kg jumbo bags is stuffed into containers at port. Source: Viego Global team.
Watch more here: Loading tapioca/cassava/manioc starch in 850-kg jumbo bags at port.
2. Most popular delivery terms to ship industrial-grade native tapioca starch from Vietnam
The shipping trade terms or "Incoterms" for shipping cassava starch from Vietnam vary based on the forwarder and their service. There are a lot of Incoterms but here in Vietnam, the manioc starch trade mostly uses three basic contract conditions: FOB, CIF, and CFR. The following is a list of the most used terms for shipping Vietnam industrial-grade cassava starch:
FOB (Free on Board) from Vietnam
Free on Board shipping simply means that Vietnamese supplier is in charge of the shipment until the shipment is loaded on the international port of departure. The responsibility falls on you, and/or your freight forwarder to arrange the rest of the shipment.
CIF (Cost, Insurance, And Freight) from Vietnam
Under the CIF Intercom, the seller is responsible for your cassava starch until they are exported to a port named in the sales contract and are fully loaded onto a transport ship. CIF shipping tends to include insurance as well.
CFR (Cost and Freight) from Vietnam
CFR shipping is an international shipping intercom that features the benefits of CIF shipping, without the required insurance.
3. Shipping documents
Not only in Vietnam but also all over the world, tapioca starch transactions are carried out by transfer of title rather than by the physical handing over of tapioca starch. Title to goods is represented by the bill of lading, accompanied by a set of additional documents, together known as the shipping documents. In Vietnam, industrial-grade native tapioca starch is not an export prohibited item or an export restriction. Therefore, the company can carry out normal commercial export procedures, without having to apply for an export license. The following are additional documents to ship Vietnam industrial-grade native cassava starch that shall be requested by authorities.
Bill of Lading: A document issued by a carrier that serves as a proof that you've legalized the transfer and allow you to unload your shipment on the destination port.
Invoice: A document that details the products or services provided, including the price and quantity.
Packing List: A document that lists the contents of a shipment, including the quantity and description of each item.
Certificate of Quality and Quantity can be issued by the Seller or third party: A document that certifies the quality and quantity of the goods being shipped, which can be issued by either the seller or a third party.
Certificate of Origin: A document that certifies the origin of the goods being shipped. All countries that signed a Free Trade Agreement with Vietnam can benefit from a CO because it qualifies them for tax exemptions upon import.
Phytosanitary Certificates: A document that certifies that plants and plant products being shipped comply with regulations regarding the control of pests and diseases.
Fumigation Certificate (If any): A document certifying that a fumigation process to eliminate pests from wood pallets has been conducted prior to shipment. This is applied for industrial tapioca starch with jumbo packaging type, which requires pallets in container stuffing.
Fumigation process during Tapioca starch loading at port. Source: Viego Global team
4. Native Tapioca starch export tax & HS CODE in Vietnam
HS CODE: 1108.1400
Export tax: 0%
Find out more on the Vietnam's national portal for importing and exporting goods.
5. Shipping ports in Vietnam
Vietnamese ports are located throughout the nation, in the North, Central, and Southern, giving Vietnamese factories an advantage in fast shipping their merchandise internationally. Along its 3,200km-long coastline, the country has a total of 34 seaports serving an important role in global trade. Let's take a look at these the largest ports of Vietnam – Saigon port (south), Hai Phong port (north), and Da Nang port (central):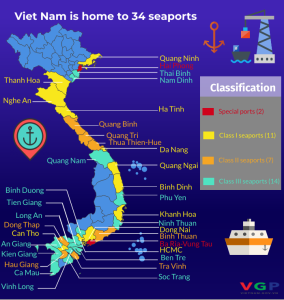 Vietnam's seaport map. Source: baochinhphu
Cat Lai Port – Ho Chi Minh City
Port code: VNSGN
Tan Cang – Cat Lai Terminal in Ho Chi Minh City, with a total area of 160 hectares of yards, 2,040m of berth, loading and unloading equipment, and advanced management technology, is the largest and most modern port in Vietnam. Cat Lai port stands in the TOP 21 largest and most modern container ports in the world. Currently, being the country's largest port, Cat Lai port of Ho Chi Minh City has a capacity of 6.4 million TEUs/year. The volume of goods passing through this port accounts for about 85% of the southern ports and 50% of the whole country.
Hai Phong Port – Hai Phong City
Port code: VNHPH
Hai Phong Port is currently the shipping hub of northern Vietnam. Well connected with southern China, along the Vietnamese northern economic corridor, and close to Hanoi, the port lies in a convenient location for international transport. Hai Phong Port has an advanced network system with the newest technology. Its container yard area includes over 700,000 m2, and the port capacity is 10 million tons of cargo per year.
Da Nang Port – Da Nang City
Port code: VNDAD
Lying at one end of the East–West Economic Corridor, an economic corridor connecting Vietnam with Laos, Thailand, and Burma, Da Nang Port is the third largest port system in Vietnam. With the total area of nearly 300,000 m2, the port is currently serving an increasing number of large cruise ships docking. The port is undergoing a huge upgrading, including expanding Tien Sa Port in to boost the capacity of receiving ships and increase the warehouse area up to 50ha. The expansion of Tien Sa port will contribute to making Da Nang port a modern facility able to accommodate container and tourist ships with high loading capacities.
Here is the list of other big international seaports in Vietnam:
Vung Tau Port – Vung Tau city
Port code: VNVUT
Quy Nhon Port – Quy Nhon city
Port code: VNUIH
Quang Ninh Port – Ha Long city
Port code: VNQNH
Cua Lo Port – Vinh city
Port code: VNNGT
Dung Quat Port – Quang Ngai province
Port code: VNDQT
Viego Global – Your trusted sourcing partner in Vietnam
At Viego Global, we know it's more than just finding the right Vietnam supplier since every step of the supply chain requires proper implementation in order to ensure Vietnam quality commodities are well delivered to clients. As the local with constant presence here, we totally understand the working culture, network to promptly solve any problems raising during the cooperation. Viego team has professional experience in providing export services (domestic trucks, export documents, LC procedure) to local tapioca starch manufacturers in Vietnam. In addition, strong relationship with local cassava manufacturers plays an important role in dealing good price, which is a competitive advantage of Viego Global. Last but not least, Viego  completely can be your reliable partner with good reputation when being mentioned in the official website of the Ministry of Planning and Investment of Vietnam and other top publishers in the world.
This is why Viego Global makes sure that you can reach the best Vietnam suppliers at the most competitive price. Apart from Tapioca/Cassava Products, we also provide insights on other Agricultural products from Vietnam. Jump to: Vietnam's Coffee Market, Vietnam's Pepper Market, Vietnam's Cashew Market , Vietnam's Rice Market and also check many other tips for sourcing from Vietnam.