Southeast Asia is the world's largest tapioca starch producer. In the region, Vietnam is a major supplier owing to its abundant natural resources and suitable weather, which are ideal for the mass production of cassava plants. Tapioca starch, with 02 main types Native and Modified, is widely used for food and industrial grade. The distinction between native tapioca starch and modified tapioca starch will be explained in this guide. Read on to learn more about the Vietnam tapioca starch market.
1. What is native and modified tapioca starch?
Vietnam tapioca starch, also commonly called Vietnam cassava starch, is one of the world's largest starch sources, coming in behind corn starch. It is a white dry starch product extracted from fresh cassava roots, a tuber from Southeast Asia also known as tapioca or manioc. There are two types of starch including  Native and Modified Tapioca Starch;
Native tapioca starch is the purest type that contains only unaltered tapioca. Derived from the root of the cassava plant, the native tapioca starch has very low residual impurities, bland flavor, and superior gel properties. For everyday cooking and food preparation, native starch is a versatile material. Its application in the food and industrial sectors, however, is often limited by its functional qualities. Several physical and chemical modification approaches have been developed to improve starch qualities, resulting in modified types.
Tapioca starch modification is a method of producing modified tapioca starch by physically, chemically, or enzymatically modifying native starch under certain conditions. A modified tapioca starch is modified to allow the starch to function properly under common conditions during processing or storage, such as high heat, high shear, low pH, freeze and cooling. Modified tapioca starch is used as a thickening agent, stabilizer, or an emulsifier.
Some modified cassava starch is used in food and industrial products. Source: Aseancassava
2. The production of Vietnam tapioca starch
2.1. Native tapioca starch
Vietnam tapioca starch is produced mainly by the wet milling of fresh cassava roots. Cassava tubers that are mature and of good quality can yield about 25% starch. Per 100 kg of cassava roots, roughly 60% starch and 10% dry pulp may be recovered from dry cassava chips.
Fresh cassava roots are transported to the tapioca starch manufacturer. Source: Viego Global team
In this process, cassava roots are transported to tapioca starch factories. Most tapioca starch factories will proceed the delivered cassava roots within 1-2 days and avoid storing perishable fresh roots as cassava roots deteriorate fast. First, the cassava roots are put through a dry sieve to remove soil, sand, and other contaminants. After passing the roots through the paddle washer, some of the residual peels, known as wet peels, are manually removed, along with some hard stems or stumps.  A rasper is used to slice and grind the washed roots. The pulp is removed from the starch slurry by passing fresh root slurry through a series of extractors, ranging from coarse to fine.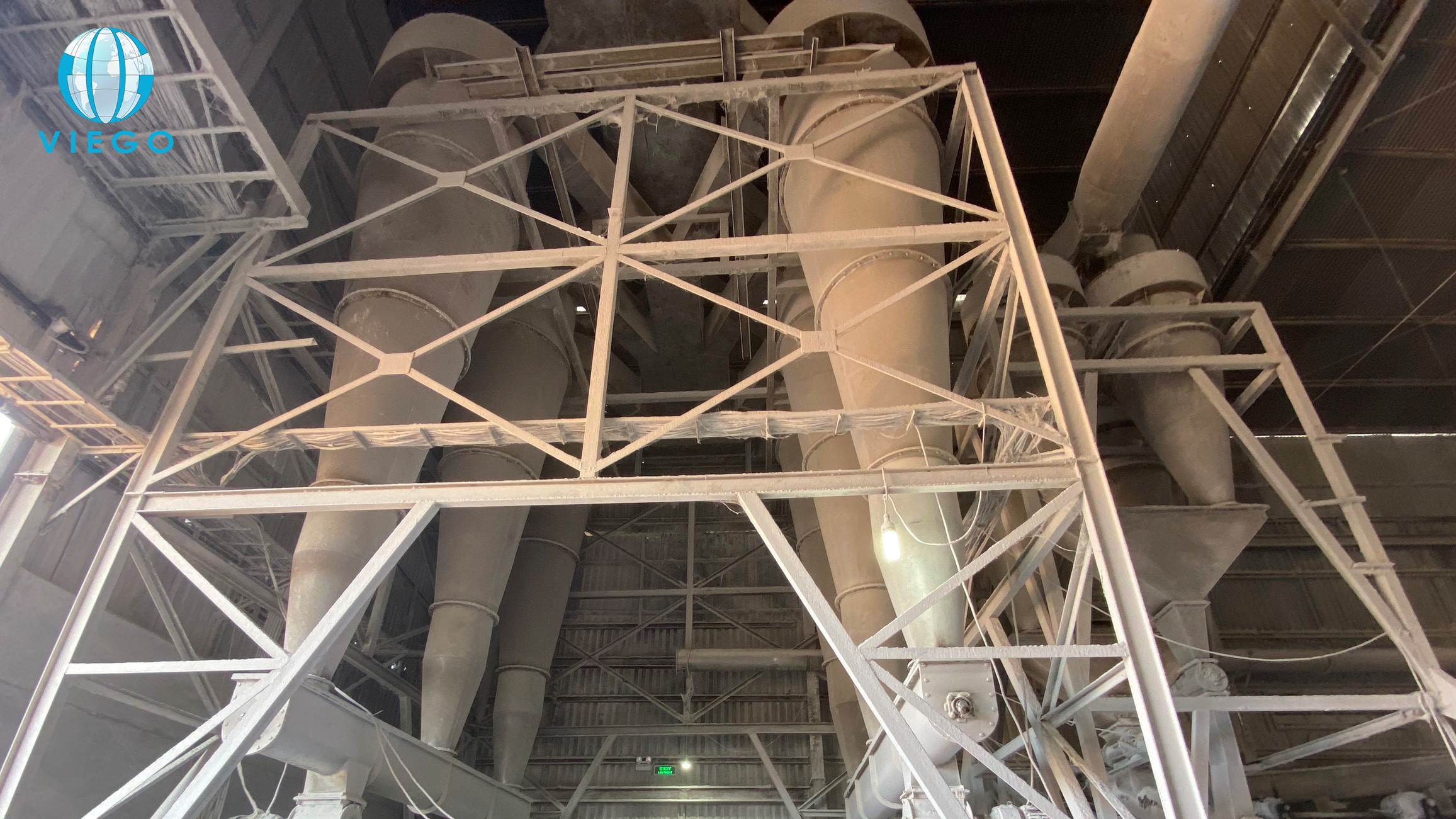 Production system in a tapioca starch manufacturer. Source: Viego Global team
Have a virtual tour of Vietnam cassava manufacturer: HERE
The starch slurry from the fine extraction is concentrated under a certain temperature. Water is separated further by passing the starch slurry through a dewatering centrifuge, which reduces the water content from 60% in the slurry to 35-40% in the cake. Starch cake is then dried by a hot-air dryer, known as a flash dryer, until it retains only 12-13 percent moisture and is ready for sale.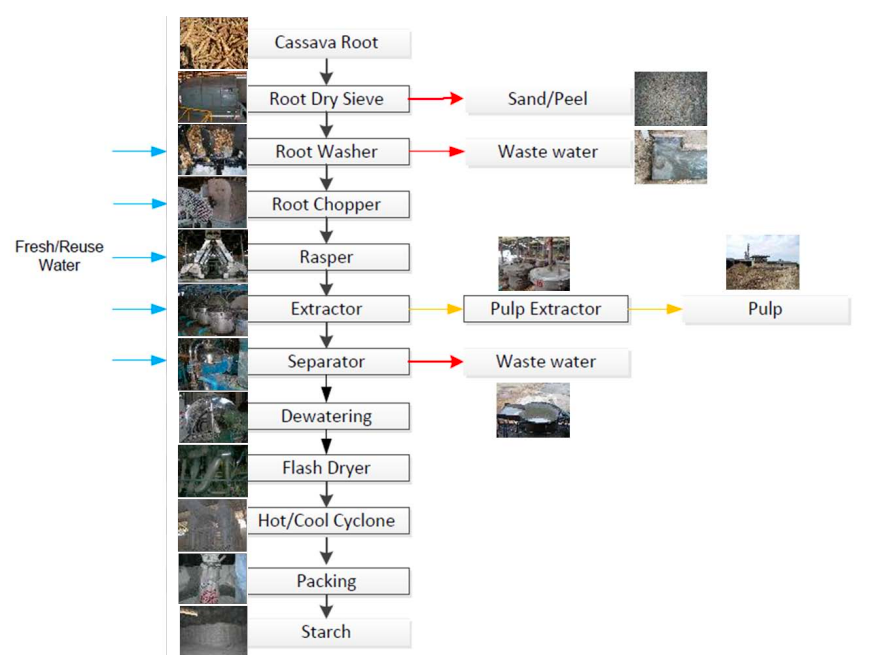 Native tapioca starch manufacturing process. Source: Breuninger et al. (2009), Aseancassava
Below is the standard quality of Vietnam native tapioca starch that can be used for food and industrial grade.
Carbohydrate content as starch: 85% min
Moisture content: 13.0% max
Protein content: 0.20% max
Total ash content (m/m): 0.20% max
Whiteness: 90% min
Acidity (ml NaOH 1N/100g): 1.5 max
pH of 10% solution: 5 – 7
Viscosity(6% solution): 650 – 850 BU Min
Some indicators in the specification can vary slightly depending on quality grades and manufacturers.
2.2. Vietnam modified tapioca starch
Physically modified starch (Pregelatinized starch)
In cold water, native tapioca starch is insoluble, which limits some uses. Therefore, pregelatinized tapioca starch or instant starch are modified from native tapioca starch. It is soluble cooked starch that thickens and forms a gel in cold water without heat. Pregelatinized starch is produced by a physical process by which starch is cooked and dried. Drum drying, extrusion, and spray drying can all be used to dry the product. The common production process of pregelatinized starch involves drying of 30 – 40 % (dry solid) starch slurry on a roller drum dryer heated to 160-170°C by direct steam.
Chemically modified starch
There are various chemical processes to produce chemically modified starch. Below are some popular types of chemical processes used in the food & non-food industry.
Acid-thinned starch 
Acid-thinned is chemically modified starch produced by processing native tapioca starch with an acid such as hydrochloric acid. Also known as thin-boiling starch, this starch provides a low viscosity hot paste when cooked. When cooled, cooked starch forms an opaque and stiff gel. Acid thinned starch's film and gel-forming qualities make it ideal for confectionery, paper, and textile applications.
Oxidized starch 
Under alkaline circumstances, the reaction of tapioca starch with sodium hypochlorite (NaOCl) produces Oxidized Starch. This modified tapioca starch is used at the size press as a surface sizing on a wide range of uncoated free sheets to reinforce the paper surface.
Pyrodextrins 
Pyrodextrin is made by burning starch in the presence of mineral acids. The product has increased film forming ability, higher solubility, and reduced hot paste viscosity, making it an excellent adhesive.
Enzyme-converted starch 
Starch can be hydrolyzed by enzymes, resulting in a product with improved solubility and lower viscosity. The product with a low degree of hydrolysis is commonly used in instant food products.
In Vietnam, there are the following popular types of modified tapioca starch:
Alpha Starch (Pregelatinized Starch)
Modified starch E1404 (oxidized starch)
Modified starch E1412 (Distarch phosphate)
Modified starch E1414 (acetylated distarch phosphate)
Modified starch E1420 (acetylated starch)
Modified starch E1422 (acetylated distarch adipate)
Cationic starch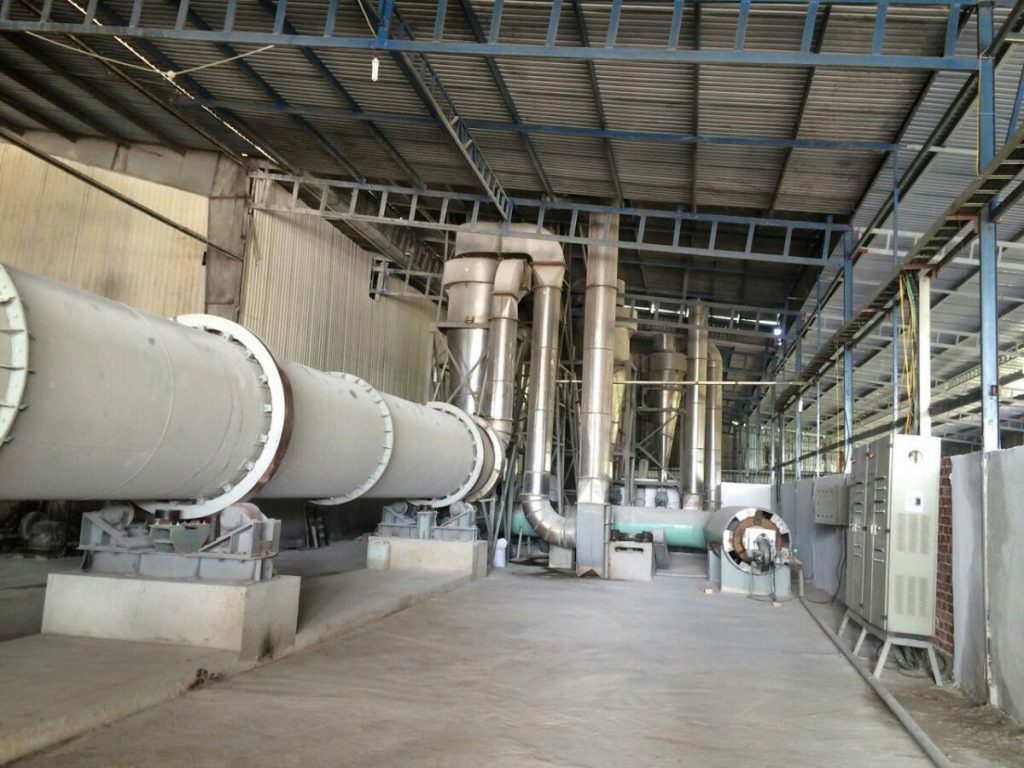 Inside a modified tapioca starch manufacturer in Vietnam
3. The best applications of tapioca starch
3.1 Food 
Native tapioca starch is extensively used in food recipes such as bakery products. Native and modified tapioca starches are used in food as thickening, binding, texturizing, stabilizing, gelling, film forming, and emulsifying agents. They also work well as fillers, sweeteners, flavor carriers, and fat substitutes. Canned food, frozen food, dry mixes, baked goods, snacks, noodles, dressings, soups, sauces, dairy products, meat and fish products, and baby food are just a few examples of food products that contain starch and its derivatives.
3.2 Beverage 
In drinks with solid ingredients, modified starches are utilized as a colloid stabilizer. Because of their enhanced processing features and capabilities, starch-based sweeteners are favored in drinks over sucrose.
3.3 Confectionery 
Gelling, thickening, texture stabilization, foam strengthening, crystal control, adhesion, film formation, and glazing are all examples of how starch products are utilized in confectionery.
3.4 Paper
Industrial-grade tapioca starch plays a huge role in the paper industry due to its whiteness, safety, cleanliness, and viscosity. It's also a very good property in the water holding process because of its strong dryness.
3.5 Adhesive
Dextrins are excellent adhesives and used in many applications including corrugated board, paper-bags, laminated board, gummed paper, tapes, labels, stamps and envelopes. In animal feed, and construction materials, manioc starch is used as adhesives or binders.
3.6 Textile 
In the textile industry, tapioca starches are used as sizing agents to stiffen and preserve the thread in order to improve weaving efficiency. They're also utilized as finishing agents to make smooth textiles and as color thickeners to make printed materials crisp and long-lasting.
3.7 Pharmaceutical, personal care, cosmetics 
In tablet manufacturing, native and modified cassava starches are used as binders, fillers, and dissolving agents. In sanitary items such as diapers and napkins, modified starch is employed as a water absorber. Medical gloves include starch powder to make them easier to wear. Specialty modified tapioca starches are utilized as a carrier for mineral oil-based skin moisturizers. Other modified starches are utilized in personal care products as emulsifiers, encapsulating agents, sizing agents, thickeners, and other additives.
Tapioca starch is used as a thickening agent in food
Viego Global – Your trusted sourcing partner in Vietnam
At Viego Global, we know it's more than just finding the right Vietnam supplier since every step of the supply chain requires proper implementation in order to ensure Vietnam quality commodities are well delivered to clients. We always try our best to determine the best suppliers based on customers' needs. During research on potential suppliers, discussion and factory visits, we inspect every single thing from business license, capacity, to past orders as well as the equipment and the workers' competence. This is why Viego Global makes sure that you can reach the best Vietnam suppliers at the most competitive price.
Apart from Vietnam Tapioca/Cassava Starch, we also provide insights on other Agricultural products from Vietnam. Jump to: Vietnam's Coffee Market, Vietnam's Pepper Market, Vietnam's Cashew Market , Vietnam's Rice Market and also check many other tips for sourcing from Vietnam