Vietnam is arguably the second-best country to source products behind China, especially with textile and garment products. With the advantages of low labor costs, geographical location and favorable trade agreements, Vietnamese textiles and garments are increasingly improved in quality and quantity, which can obviously meet large orders with strict requirements. And among all, the mode of export is one of the most essential factors that foreign exporters shall keep in mind before making decision on sourcing textile and garments from Vietnam. Outlined below are most popular export modes that are being used in Vietnam.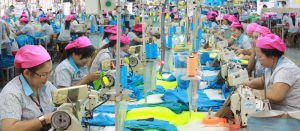 CMT export mode (Cut – Make – Trim)
In the textile and garment industry, CMT is in short for: Cut, Make, Trim. In particular, this term means:
• Cut: Cutting fabric from rolls of fabric according to pre-designed patterns from customers.
• Make: Sewing, stitching, and patching fabric together into a finished product.
• Trim: Cutting the thread and cleaning the thread from clothes after stitching. Performing inspection, finishing products, packing finished products as required.
CMT is the simplest export method. When cooperating in this mode, buyers, buying agents and buying organizations provide the processing enterprise all of the inputs to produce products including designs, materials, transportation,… Manufacturers will only carry out product cutting, sewing and finishing. Enterprises who have limited production capability and design ability should take advantage of this export mode.
FOB export method (Free On Board)
FOB is a higher level export method than CMT. The term FOB in the textile industry is understood to be a form of buy-off style. Under the FOB method, enterprises shall actively participate in the production process, from purchasing raw materials to producing final products. Unlike CMT, FOB producers need to buy the necessary inputs instead of being provided by their buyers. The FOB operations vary considerably based on actual contractual relationships between the supplier and the foreign buyer.
ODM export method (Original Design Manufacturing)
According to the ODM method, enterprises participate not only in the input sourcing and tailoring process but also in the design procedure. Firms will create designs and resell the products to buyers. As a result, an ODM manufacturer is not allowed to manufacture the same design without authorization from the buyer.
OBM export method (Original Brand Manufacturing)
Accordingly, businesses are responsible for designing their own products, importing raw materials, cutting sewing, and shipping. For OBM orders, businesses enjoy higher profit margins than all other export forms.
Currently, exporting textiles and garments from Vietnam is mainly processed under CMT method. The proportion of exports in this form accounts for about 70% of the industry's export turnover. The EU is one of the largest markets of Vietnam. Annually, the EU imports over 80 billion USD of clothing. Asian countries such as China, Singapore, Taiwan, Korea… are also close partners of Vietnam. With its abundant labor force and lower capital requirements, Vietnam is considered to have an huge advantage in sewing in the supply chain. In Vietnam, FOB is also the method targeted by exporters. The price of the product  include all costs involved in the manufacturing process from importing, checking raw materials, cutting fabric, sewing finished products, packing to transporting to the port. This method makes it easier for enterprises to do business with limited ability, from input material sourcing, manufacture planning to products selling.
Viego Global – Your trusted sourcing partner in Vietnam
At Viego Global, we know it's more than just finding the right Vietnam supplier since every step of the supply chain requires proper implementation in order to ensure Vietnam quality commodities are well delivered to clients. We always try our best to determine the best suppliers based on customers' needs. During research on potential suppliers, discussion and factory visits, we inspect every single thing from business license, capacity, to past orders as well as the equipment and the workers' competence. This is why Viego Global makes sure that you can reach the best Vietnam suppliers at the most competitive price. Please contact us HERE for further support!