In the global market for tapioca starch, Vietnam has emerged as one of the leading and influential players. The country's high capacity and modern production line for cassava starch make it a compelling choice to buyers worldwide. In this article, we will delve into the reasons why opting for Vietnam tapioca starch is a wise and strategic decision for businesses operating in the food and industrial sectors. By examining the numerous advantages and benefits of Vietnam manioc starch , we aim to provide valuable insights that will help buyers make informed choices in their procurement process.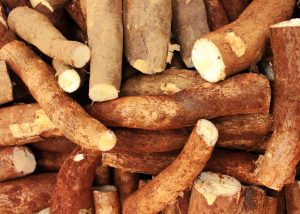 1. High output of cassava
Vietnam's tapioca starch industry is renowned for its high output, driven by a combination of favorable agricultural conditions and efficient production practices. According to data from the Ministry of Agriculture and Rural Development (MARD) of Vietnam, the country has consistently ranked among the top global producers of cassava with nearly 10.7 million tons of cassava roots in 2022. This significant production volume places Vietnam at the forefront of tapioca starch production, ensuring a stable and abundant supply for both domestic and international buyers.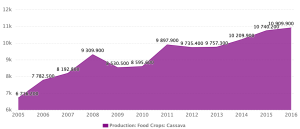 Vietnam cassava production from 2005-2016. Source: Ceicdata
One of the key factors contributing to Vietnam's high output of cassava starch is its favorable agricultural environment. The country's southern provinces, in particular, are famous for theirs optimal conditions for tapioca cultivation. These provinces benefit from fertile soil, favorable climate, and abundant water resources. This combination of factors creates an ideal ecosystem for tapioca plants to thrive and yield abundant crops. They are also the plantation based where you can get materials at good price. In fact, most of tapioca starch factories are located in the South of Vietnam.
In addition, the MARD has been instrumental in promoting the development of the tapioca starch industry in Vietnam. Through various initiatives, including research and development programs, farmer training, and technology transfer, the ministry has helped enhance the productivity and quality of tapioca crops.
Farmers are happily collecting cassava roots in Vietnamese cassava harvest this year. Source: Viego Global Team
2. Qualified manufacturers with export certifications
When it comes to sourcing Vietnam tapioca starch, it is crucial to partner with qualified manufacturers who prioritize production and adhere to strict quality standards. Vietnam's cassava starch industry is home to a plenty of such millers. They possess necessary certifications and accreditations from reputable organizations which enable them to penetrate numerous global markets.
Vietnam's tapioca starch factories undergo thorough testing and inspection procedures to ensure compliance with both domestic and international regulations. This includes examinations of raw materials, production processes, and final products. By adhering to these strict standard, manufacturers ensure that their products adhere to global export quality.
To learn more about how to buy directly from reliable tapioca starch millers in Vietnam, you could refer to this blog in our Vietnam's tapioca market series.
Inside a Vietnam tapioca starch factory. Source: Viego Global team
3. Good Quality for Food and Industrial Sectors
In the food industry, Vietnam tapioca starch serves as a versatile ingredient with a wide range of applications. Its high purity, fine texture, and neutral taste make it an ideal thickening agent, stabilizer, and texturizer in various food products. Whether it's used in sauces, soups, dressings, or bakery items, Vietnam tapioca starch enhances the texture, consistency, and overall sensory experience of the final food product.
In the industrial sector, Vietnam cassava starch showcases its reliability as an essential ingredient. Its abilities to create strong bonds, provide viscosity, and improve product characteristics make it indispensable in various manufacturing processes of many industries, such as paper, textile, pharmaceuticals, and adhesives. The consistent quality of Vietnam tapioca starch ensures that it performs reliably, contributing to the efficiency and effectiveness of industrial operations.
In the government's effort of promoting the development of the cassava industry in Vietnam, the farmers receive guidance on best practices, including soil management, pest control, and efficient irrigation methods. These efforts not only ensure higher yields but also improve the overall quality of tapioca roots, resulting in high quality of tapioca starch.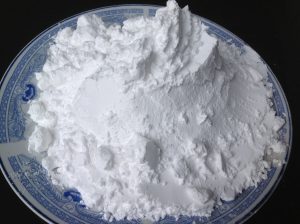 4. Competitive Pricing Compared to Regional Counterparts
One of the key advantages of choosing Vietnam tapioca starch is its competitive pricing, which offers significant cost benefits compared to other sources in Southeast Asia.
Several factors contribute to Vietnam's ability to offer competitive pricing in the tapioca starch market. Firstly, Vietnam benefits from favorable cultivation conditions, including rich soils, abundant water supply, and a conducive climate, which result in high yields and lower production costs. This advantage allows manufacturers to acquire tapioca roots at a favorable price, reducing the overall production expenses.
Furthermore, Vietnam's tapioca starch manufacturers are strategically located in the South of Vietnam, where tapioca plantations are concentrated. This proximity to the source of raw materials significantly reduces transportation costs, as manufacturers can directly source the tapioca roots from nearby farms. By minimizing transportation expenses, Vietnam manufacturers can pass on the cost savings to buyers, offering tapioca starch at a competitive price point.
Compared to other countries in the same region, Vietnam's competitive pricing offers an advantage. Buyers can expect to secure high-quality tapioca starch at a cost that aligns with their budgetary requirements. This cost advantage positions Vietnam as an attractive sourcing option for for buyers in search of cost-effective solutions without compromising on quality.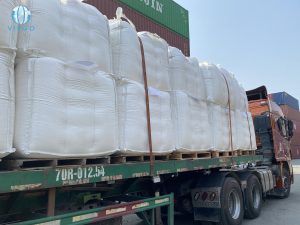 Exporting Vietnam tapioca starch in jumbo-bag package to the world. Source: Viego Global Team
Viego Global – Your trusted sourcing partner in Vietnam
At Viego Global, we know it's more than just finding the right Vietnam tapioca starch supplier since every step of the supply chain requires proper implementation in order to ensure Vietnam quality commodities are well delivered to clients. As the local with constant presence here, we totally understand the working culture, network to promptly solve any problems raising during the cooperation. Viego team has professional experience in providing export services (domestic trucks, export documents, LC procedure) to local tapioca manufacturers in Vietnam. In addition, not only being located in the same regions with local cassava manufacturers, Viego also has strong relationship with the millers, which plays an important role in dealing good price – one of competitive advantages. Last but not least, Viego Global completely can be your reliable partner with good reputation when being mentioned in the official website of the Ministry of Planning and Investment of Vietnam and other top publishers in the world.
This is why Viego Global makes sure that you can reach the best Vietnam suppliers at the most competitive price. Apart from Tapioca/Cassava Products, we also provide insights on other Agricultural products from Vietnam. Jump to: Vietnam's Coffee Market, Vietnam's Pepper Market, Vietnam's Cashew Market , Vietnam's Rice Market and also check many other tips for sourcing from Vietnam.