Rubber is one of Vietnam's most valuable industrial crops, besides pepper, coffee, and cashew. Regarding natural rubber, the Southeast Asian region is the world's most important plantation area, with Vietnam being one of the leading producers. Vietnam natural rubber material exports, such as rubber blocks and concentrated latex, as well as rubber products like tires, medical supplies, and shoe soles, have boomed in recent years. This guide will guide you through the natural rubber market in Vietnam. Read it to learn more about how to source and import natural rubber from Vietnam.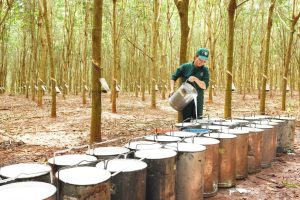 1. Vietnam natural rubber at a glance 
a. Product overview 
Vietnam's rubber production is split between natural rubber, processed rubber products, and furniture made from rubberwood. Natural rubber tree is a latex-producing tree that belongs to the spurge family. When it gets wounded, it responds by generating more latex. Rubber trees in plantations have a 32-year economic life cycle, with 7 years of immature phase and 25 years of productive phase. At the end of its life, rubber wood is a good end product as a medium density tropical hardwood.
Rubber is an indispensable resource. It's used in the production of a wide range of industrial and consumer goods, including tires, gloves, elastics, and hoses, to mention a few examples. Natural rubber is widely employed in a variety of applications and products, both alone and in conjunction with other materials. It has a high stretch ratio, great durability, and is exceptionally waterproof in most of its practical forms.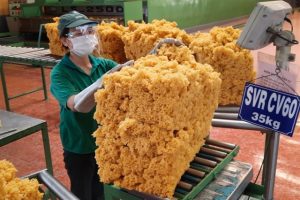 Inside a Vietnam's natural rubber processing factory. Photo nld.com.vn
b. Main natural rubber's growing regions in Vietnam
The rubber trees were first introduced into Vietnam by the French in 1897, mainly in the southeastern provinces such as Dong Nai, Binh Duong, Binh Phuoc and Tay Ninh. After more than a century of growth, the natural rubber industry is now one of Vietnam's most important agricultural and forestry industries.
According to MARD, The Southeast now has the greatest rubber plantation area in Vietnam, accounting for 46.5% of the country's total rubber plantation area, followed by the Central Highlands (27.7%). Provinces with the largest rubber plantation area include Binh Phuoc (22%), Tay Ninh (10%), and Binh Duong (18%). The Central Highlands, on the other hand, are expanding at a breakneck pace in recent years. Today, Gia Lai has established itself as a vital location for rubber plantation expansion, accounting for 12% of the country's total rubber plantation area. Dak Lak has also become a province with a significant rubber plantation area, accounting for 4% of the country's total rubber plantation area.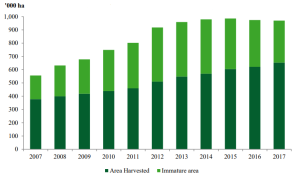 Vietnam natural rubber's growing area chart. Source: VRA
2. Main types of Vietnam natural rubber 
Natural rubber (NR) is made from the latex of rubber trees grown in plantations. Vietnam natural rubber market can be segmented into 3 main types: Standard Vietnam Rubber (SVR), Ribbed Smoked Sheets (RSS), and concentrated latex.
Regarding the product structure in the industry, most of the enterprises in Vietnam are producing block rubber (SVR) and latex (concentrated rubber). In that, SVR predominates, and also is a favorable product of Vietnam.
a. Ribbed smoked sheet (RSS) 
Field latex after being collected is filtered to eliminate dirt and impurities before being made into RSS. This filtered latex is then combined with concentrated formic acid, which causes the rubber to coagulate. The solids are then rolled into raw sheet rubber and dried in the sun for six hours to make air-dried sheets. These sheets are known as 'Ribbed Smoked Sheets' once they have been smoked or further dried, a technique that minimizes the moisture content. This is a form of dry rubber that can be preserved for much longer than other forms.
RSS are divided into five categories based on color, elasticity, and purity: RSS1, RSS2, RSS3, RSS4, and RSS5, with RSS1 being the highest grade RSS5 denoting the lowest quality.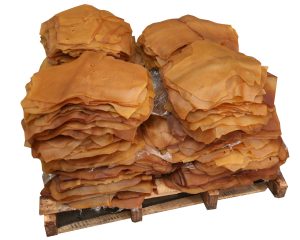 RSS rubber
b. Standard Vietnam Rubber (SVR)
SVR is Technically Specified Rubber (TSR) or block rubber, which is made from either field latex or some form of dried rubber such as sheet rubber, cup lump and scrap rubber that is separated into small pieces, washed, dried, and cut into bars.
Unlike the RSS process, after coagulation, the solids may be washed, shredded and granulated under controlled conditions before being dried in deep-bed driers to form a block rubber known as TSR.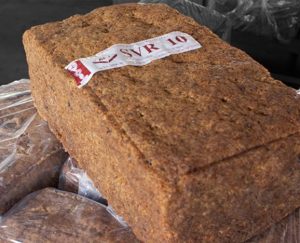 SVR rubber
Vietnam natural rubber in block form (crumb) is classified into 7 grades: SVR L, SVR 3L, SVR CV60, SVR CV50, SVR5, SVR 10, SVR 20.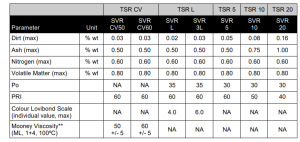 Standard Vietnamese Rubber Specification
c. Concentrated latex
A small proportion of natural rubber is also processed and sold as latex concentrate. Concentrated latex is pure and is one of the most clean raw materials in terms of rubber. Fresh field latex is preserved with added chemicals and centrifuged to obtain a concentrated latex of 60% DRC (Dry Rubber Contents). Ammonia is added during the process to enhance the preservation of latex but depending on specific requirements of the customer.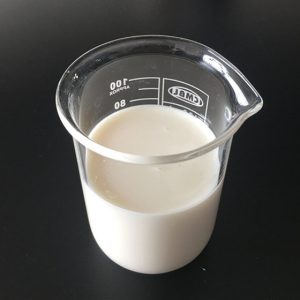 Concentrated latex
3. Quality management and Vietnam's government effort
Vietnam's natural rubber products are tested and certified according to the Vietnamese Standard (TCVN 3769: 2004, TCVN 6314: 2007, etc). Currently, a lot of manufacturers of rubber products from Vietnam are well qualified for Vietnamese standards and International standards through cross-checking programs among Southeast Asia country members, such as ISO 9001: 2008; ISO 14001: 2004; FSC / FM-CoC; ISO / IEC 17025: 2005. The quality management system ISO9001 also helps producers to reach high reliability. Local products such as tyres and tubes for cars and motorcycles meet the Japanese industrial standards, as well as US safety standards.
Vietnam's government considers the rubber industry a key factor for sustainable growth. Therefore, rubber manufacturers are aiming for product quality as the main competitive factor in their business strategy. Last year, Vietnam's rubber industry concentrated on generating natural latex and enhancing processing technologies, as well as promoting catch-crop and high-tech rubber farming. To expand its market, the Vietnam Rubber Group (VRG) has formed agreements with both domestic and international companies. VRG has authorized two high-tech agriculture zones and 13 high-tech projects totaling over 4,300 hectares up until last year.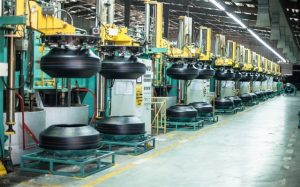 Vietnam's rubber factory. Photo courtesy of DRC
Many Vietnamese companies are promoting the application of modern, eco-friendly business processes that meet the requirements and regulations of competent authorities. Product quality is guaranteed by an advanced quality management system and is recognised in accordance with current legal regulations. To increase product quality, the complete operating system is implemented in accordance with national and international standards, and more and more advanced machinery and equipment are used.
Viego Global – Your trusted sourcing partner in Vietnam
At Viego Global, we know it's more than just finding the right Vietnam supplier since every step of the supply chain requires proper implementation in order to ensure Vietnam quality commodities are well delivered to clients. We always try our best to determine the best suppliers based on customers' needs. During research on potential suppliers, discussion and factory visits, we inspect every single thing from business license, capacity, to past orders as well as the equipment and the workers' competence. This is why Viego Global makes sure that you can reach the best Vietnam suppliers at the most competitive price.
Apart from Natural Rubber Products, we also provide insights on other Agricultural products from Vietnam. Jump to: Vietnam's Coffee Market, Vietnam's Pepper Market, Vietnam's Cashew Market , Vietnam's Rice Market and also check many other tips for sourcing from Vietnam.