With its flourishing cassava industry and ample resources, Vietnam has become a major player in the global tapioca starch market and offers a wide range of opportunities for those seeking wholesale Vietnam tapioca starch supplies. However, choosing the right supplier can be a daunting task, especially for those unfamiliar with the industry. This blog aims to guide you through the process of finding reliable Vietnam tapioca starch supplies, ensuring competitive prices and high-quality products.

1. Criteria for choosing the best wholesale tapioca starch millers in Vietnam
When it comes to choosing the best wholesale Vietnam manioc starch supplies, several important criteria should be considered, which will help you evaluate potential suppliers and make informed decisions. Here are some invaluable questions you should keep in mind.
Are you dealing with a cassava starch manufacturers or trading company?
Understanding the nature of the supplier's business is crucial. Manufacturing companies tend to have more control over the production process, resulting in greater product consistency, larger quantities and potentially lower prices. Working with tapioca starch manufacturers can bring buyers great benefits but required a lot of effort. In fact, finding a reliable and qualified tapioca starch miller can be a huge challenge for anyone. For example, some manufacturers cannot do exporting services, which can escalate the cost and effort for customers who are unfamiliar with Vietnamese tapioca starch market when they need to do every steps, such as inspecting, documents processing, domestic trucking, etc.
On the other hand, trading companies may offer a wider range of products that buyer can easily find the right one for their production. However, the products provided by trading companies could have higher prices due to their intermediary role. Furthermore, for industrial-grade raw material like tapioca starch, bulk buying is normally required. This could cause a problem for buyer due to the limited volume trading companies can provide.
Hence, consider asking them directly about their credentials or taking a look at their catalog.
How long have they been in business and which countries have they exported their cassava starch to?
While choosing Vietnam tapioca starch supplies, supplier's experience is an important consideration. Long-established suppliers with a proven track record are more likely to provide reliable products and services. Additionally, their export destinations indicate their ability to meet international quality standards and fulfill global market demands. Make sure to always request the pre-production sample to assess the entire production quality before you make a deal with the suppliers.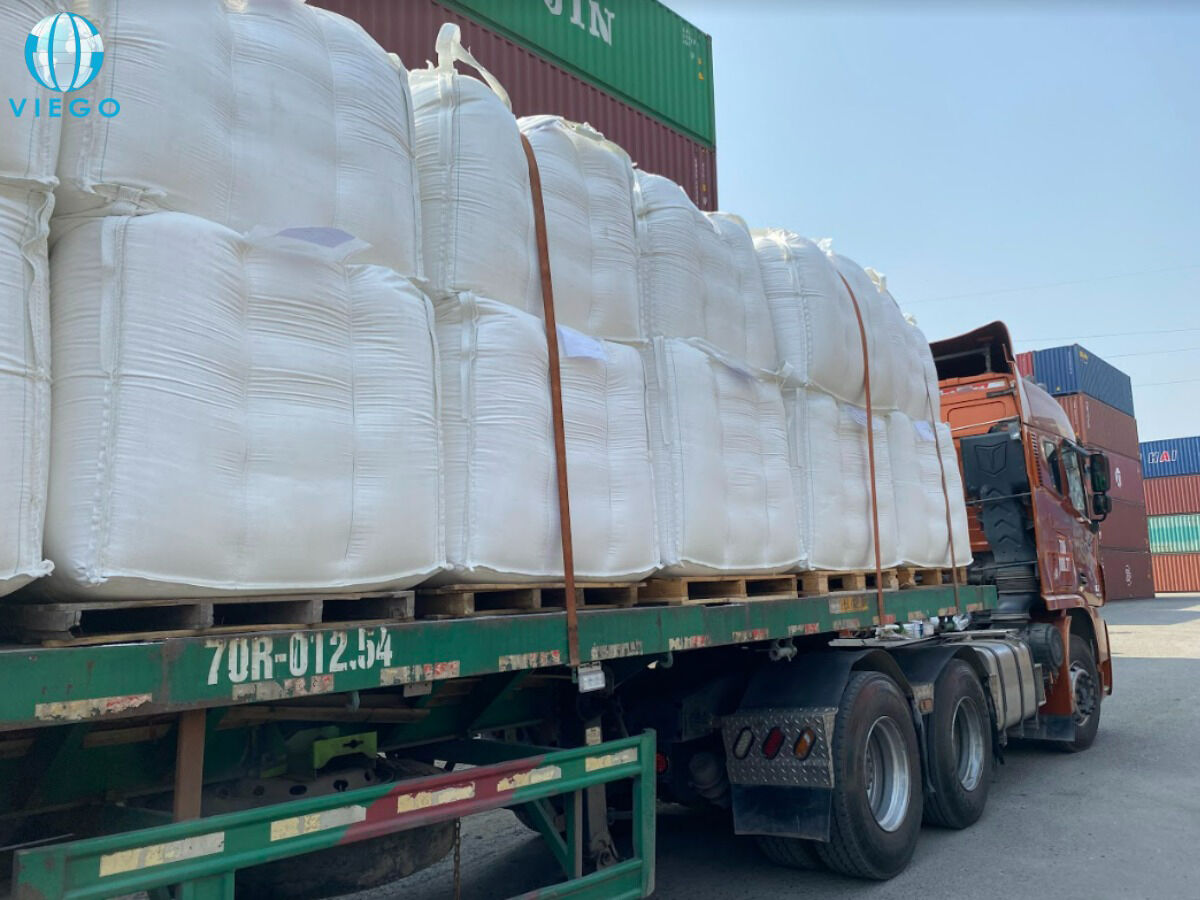 Vietnam cassava starch shipment to Korea. Source: Viego Global Team.
What is the minimum order quantity they can handle?
Every business has different requirements in supplies, and it's essential to ensure that the cassava starch supplier's Minimum Order Quantity (MOQ) aligns with your needs. For example, with industrial-grade native tapioca starch, there would be a large amount of starch required in each order. Therefore, it is of great importance to check if the millers have capacity to produce enough amount monthly or quarterly, to pack in requested bags and to deliver on time or not as well.
In Vietnam, the capacity of each tapioca starch miller is ranging from 5,000-15,000 metric tons/month. They can pack in both Jumbo bags (850 or 500 kg) and 50-kg PP bags and deliver shipments as schedule which is agreed by all parties.
Do they obtain any quality certifications?
Quality certifications, such as ISO, HACCP, HALAL or Kosher are strong indicators of a supplier's commitment to producing high-quality tapioca starch. These certifications provide assurance that the product meets international standards. For instance, in Middle East market, customers highly prefer goods certified with HALAL certification showing that the products are processed and produced according to the requirements of Muslims law. Therefore, when importing Vietnam tapioca starch supplies, remember check whether those certifications are available.
All about the logistics process:
Understanding the supplier's logistics expertise is crucial for maintaining a reliable and uninterrupted supply chain. Consider the supplier's logistics capabilities and the efficiency of their distribution network. A well-established logistics process ensures timely delivery, minimizes the risk of product damage or spoilage, and facilitates smooth import/export procedures. It would be wise to follow up with questions about shipping times, guarantees, or what happens if there are delays in shipping, lead time, payment method and delivery terms accepted.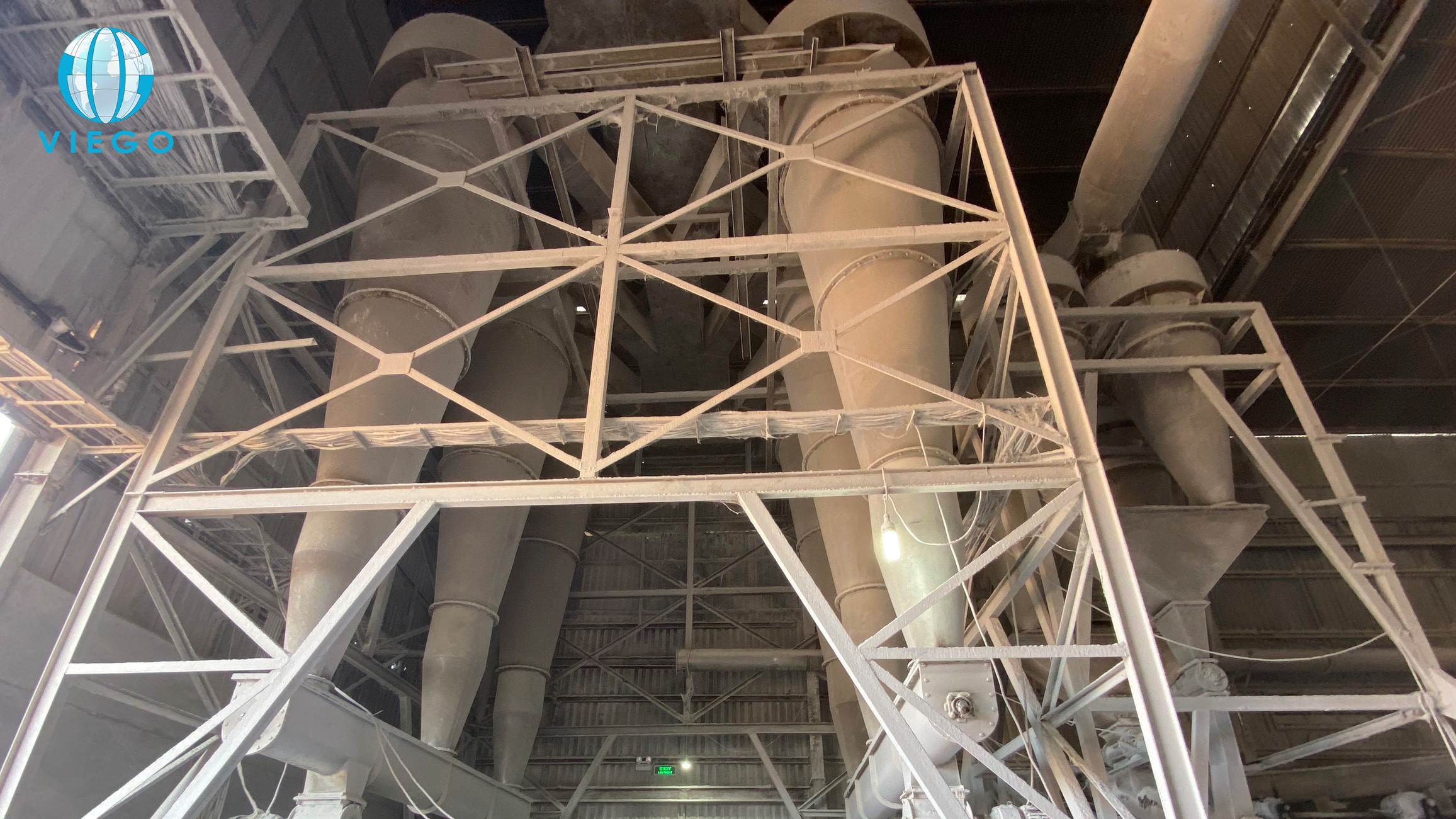 Inside a cassava starch processing factory. Source: Viego Global team
Have a virtual tour at a Vietnamese tapioca starch manufacturer HERE.
2. What tapioca starch types can be produced in Vietnam?
Vietnam offers a diverse range of tapioca starch types, catering to various industries and applications. The following are some commonly produced types:
a. Native Tapioca Starch:
It is commonly used in both food and industrial applications, as thickening agents, stabilizers, and binders, etc.
b. Modified Tapioca Starch:
Modified starch undergoes physical or chemical treatments to alter its properties. Modified tapioca starch also finds applications in industries like food, textiles, paper production, and pharmaceuticals. In Vietnam, there are the following popular types of modified tapioca starch:
Alpha Starch (Pregelatinized Starch)
Cationic starch
Modified starch E1404 (oxidized starch)
Modified starch E1412 (Distarch phosphate)
Modified starch E1414 (acetylated distarch phosphate)
Modified starch E1420 (acetylated starch)
Modified starch E1422 (acetylated distarch adipate)
You could refer to our previous blog for more details about Vietnam tapioca starch classifications.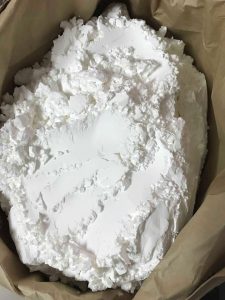 3. Where to find Vietnam wholesale tapioca starch supplies
Finding wholesale tapioca starch supplies in Vietnam can be simplified by exploring the following avenues:
a. Online B2B Platforms:
Utilize online business-to-business (B2B) platforms, such as Alibaba, Global Sources, Amazon, to connect with Vietnam tapioca starch supplies. These platforms provide access to a wide range of suppliers, allowing you to compare prices, product specifications, and customer reviews on cassava starch supplies.
b. Trade Fairs and Exhibitions:
Attend industry-specific trade fairs and exhibitions in Vietnam to directly interact with manioc starch suppliers. These events offer an excellent opportunity to establish personal connections, evaluate product samples, and negotiate prices. Here are some cassava trade shows in Vietnam that may be helpful in sourcing tapioca starch directly from manufacturers.
c. Local Sourcing Agents:
Engaging the services of local reputable sourcing agents who specialize in the tapioca starch industry can be advantageous. They can assist in identifying trusted wholesale tapioca starch suppliers who can meet your demand in tapioca starch quality and quantity, negotiating prices, conducting due diligence, and managing the logistics process. Their local expertise and industry connections can streamline your sourcing efforts and save valuable time and resources. Customers can buy manioc starch in bulk not only directly from carefully selected manufacturers but also with better price.
In addition to pricing, it is crucial to carefully consider the reputation of Vietnam cassava millers. There are instances where manufacturers, in response to price fluctuations, may fail to deliver goods or provide inconsistent quality. Engaging the services of a reputable third party located right where Vietnam tapioca starch plantation based, to observe and assess the millers can provide an added layer of assurance. By relying on the expertise and oversight of a trusted entity, you can mitigate the risks associated with unreliable suppliers and ensure a consistent and dependable supply of tapioca starch.
Fresh cassava roots at tapioca starch factory. Source: Viego Global Team
Viego Global – Your trusted sourcing partner in Vietnam
At Viego Global, we know it's more than just finding the right Vietnam tapioca starch supplier since every step of the supply chain requires proper implementation in order to ensure Vietnam quality commodities are well delivered to clients. As the local with constant presence here, we totally understand the working culture, network to promptly solve any problems raising during the cooperation. Viego team has professional experience in providing export services (domestic trucks, export documents, LC procedure) to local casava starch manufacturers in Vietnam. In addition, not only being located in the same regions with local cassava starch manufacturers, Viego also has strong relationship with the millers, which plays an important role in dealing good price – one of competitive advantages. Last but not least, Viego Global completely can be your reliable partner with good reputation when being mentioned in the official website of the Ministry of Planning and Investment of Vietnam and other top publishers in the world.
This is why Viego Global makes sure that you can reach the best Vietnam suppliers at the most competitive price. Apart from Tapioca/Cassava Products, we also provide insights on other Agricultural products from Vietnam. Jump to: Vietnam's Coffee Market, Vietnam's Pepper Market, Vietnam's Cashew Market , Vietnam's Rice Market and also check many other tips for sourcing from Vietnam.