In part 1 of this blog post, we discussed on the first 4 quality certifications you need to be mindful of when sourcing quality coffee from Vietnam. Besides ISO 9001:2015, VietGAP, HACCP and GMP, these are the other 4 quality certifications that various quality coffee suppliers in Vietnam conforming to. Check it out to make sure you select to best coffee beans from Vietnam.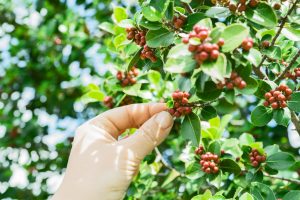 1. HALAL Certification for coffee from Vietnam
HALAL Certification is the document issued by the Muslim authority of the exporting country in which it guarantees that the features and quality of the products fulfill the requirements established by the Islamic Law. These are set of rule for its consumption by the Muslim population in both Muslim-majority countries and in some Western countries. For instance, in Middle East market, customers highly prefer goods certified with HALAL showing that the products are processed and produced according to the rules of the Qur'an and the Shari'ah law of Muslims. Therefore, when importing coffee from Vietnam to such regions, remember check whether your products are readily acceptable by Halal consumers. Coffee that are HALAL certified are often marked with a registered trademark Halal logo on their packaging.
To be certified with halal certification, the Vietnamese coffee suppliers must complete a series of tests to attest that the coffee product and processing environment are free from:
alcohol, such as ethanol, and all liquid and solid intoxicants;
all insect-derived products such as shellac, cochineal etc;
human-derived products such as L-cysteine;
blood and blood-derived products such as plasma;
all animal-derived products such as fats, oils, gelatine etc., unless obtained from halal sources or specifically authorized by the UK's Halal Monitoring Committee (HMC); and
ingredients produced from genetically modified organisms.
In our international coffee trading market, possessing HALAL certification enables coffee manufacturers to label their finished products accurately and therefore expand their sales to additional consumer segments. Here in Vietnam, many coffee suppliers have access to the HALAL certified coffee. If you want to connect with any coffee suppliers in Vietnam providing HALAL coffee, don't hesitate to contact us and check out a complete list of the most quality ones.
2. 4C (Common Code for the Coffee Community) for coffee from Vietnam
The Common Code for the Coffee Community (4C) is an independent, stakeholder-driven, internationally recognized sustainability standard for the entire coffee sector, aiming at anchoring sustainability in coffee supply chains. Through its global network, the 4C Association provides support services to coffee farmers, including training, access to tools and information. 4C Compliant Coffee is coffee that has been produced in accordance with the 4C Code of Conduct, a set of baseline sustainable practices and principles for the production of green coffee beans. Compliance can be demonstrated through the 4C Certification System and the 4C Certificates issued.
According to 4C Services GmbH, the organization operating 4C certification system, the 4C Code of Conduct comprises:
12 principles across economic, social and environmental dimensions based on good agricultural and management practices as well as international conventions and recognized guidelines accepted in the coffee sector
45 criteria, entailing specific check-points to be controlled during the audit in order to verify compliance with the respective criteria
3 compliance levels, allowing for a smooth entry into certification and ensuring the continuous improvement of the certified producers.
In Vietnam, 4C have helped improve quality and productivity, bring farmers greater incomes and enable the coffee sector to produce more coffee meeting the international 4C standards for exporting. According to CBI, the Centre for the Promotion of Imports from developing countries, Vietnam was the largest producer of 4C compliant coffee, with 523 thousand tons of coffee in 2016.
CHECK OUT OUR LIST OF 4C CERTIFIED COFFEE SUPPLIERS IN VIETNAM
3. RFA (Rainforest Alliance) and UTZ (UTZ Certified) for coffee from Vietnam
The Rainforest Alliance (RFA) is an international non-profit organization working at the intersection of business, agriculture, and forests. Rainforest Alliance Certified Seal guarantees that coffees are grown on farms that adhere to a rigorous standard with detailed environmental, social and economic criteria established by the RFA. Rainforest Alliance certification also promotes decent living and working conditions for workers, gender equity and access to education for children in farm communities.
UTZ is a certification program for sustainable farming of coffee, tea, cocoa and hazelnuts. UTZ focuses on transparency and traceability in the supply chain, as well as improves economic performance through productivity and farm professionalism. Certification requires compliance with mandatory control standards. In 2018, these two of the world's leading sustainability certification organizations, UTZ and RFA merged to create a single certification. It helps simplify the certification process for farmers and empower companies to build more responsible supply chains. The merged organization is called the Rainforest Alliance and focuses on environmental and social issues such as Forests, livelihoods, climate and human rights.
With the aim to increasing quality image and the brand image of Vietnam's coffee, Vietnam is working hard towards greater coffee sustainability by adapting modern production models and developing the best production practices in the coffee value chain. According to ICC, International Chamber of Commerce, more than 200,000 ha, accounting for more than 30% of the total coffee growing area of Vietnam, were certified by sustainable development initiatives by the end of 2017. In the report of "Exporting sustainable coffee to Europe", CBI stated that Vietnam was among top countries exporting UTZ certified coffee to Europe, with 173 thousand tons of coffee in 2017.
CHECK OUT OUR LIST OF COFFEE SUPPLIERS IN VIETNAM CERTIFIED BY RFA
Viego Global – Your trusted sourcing partner in Vietnam
In order to provide a deeper insight on Vietnam's Coffee Market, we've created this series along with tips on how to select the best beans from Vietnam for your business. Jump to: 
Are you sourcing coffee beans from Vietnam? Do you need a source of high quality coffee? If you want to connect with any qualified coffee producers in Vietnam that pay strict attention to their beans, please comment below so we could help you out easily. Being presence at the factory location, Viego Global has the capability to professionally source, manufacture and execute order providing maximum benefit to our clients in terms of delivering a wide range of products at the best competitive pricing. Please contact us HERE for further support!