Being the world's second-largest coffee producer, Vietnam is currently a premier hotspot for international coffee buyers who are sourcing a quality coffee beans at a cheaper rate. Besides its wide variety of coffee products and large supply ability, the favorable shipping process is also attributable to its success story. In recent years, Vietnam has seen significant improvements in the country's infrastructure, including modernizing its ports and roads, which help effectively streamlining the shipping process for international buyers. To help you get acquainted with the international trade in Vietnam's coffee market, we've created this guide on how to ship coffee from Vietnam. This essential guide will cover the following:
Don't forget to check out on our blog series on Vietnam's coffee market, along with tips on how to select the best beans from Vietnam for your business.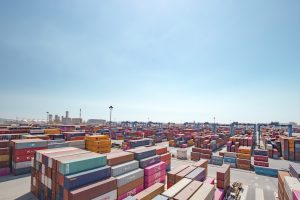 1. Options for shipping coffee from Vietnam
In coffee industry, most buyers will opt for sea freight rather than air freight. Here in Vietnam, you can choose to ship coffee from Vietnam from one of three modes: FCL sea freight, LCL sea freight, air freight. 
FCL sea freight from Vietnam
FCL, or full container load, means your coffee fill an entire container, either 20-foot or 40-foot long. If you are shipping coffee at a high volume, you'll save time and money by shipping FCL. Pricing for FCL is done as a flat rate, regardless of whether or not your container is completely full.  Indeed in Vietnam, many importers will not consider anything less than a container load: 19 to about 21 tons in a 20-foot container depending on the type of coffee.
LCL sea freight from Vietnam
LCL, or less than a container load, means your coffee do not fill an entire container, and will share space with other shipping consignments headed for the same destination. Exporters and buyers of small lots that are less than a container load face both logistical and cost constraints. Note that with organic coffee, it may not be shipped in the same container with other coffee because of the risk of contamination.
Air freight from Vietnam
Shipping by air is generally faster but much more expensive than shipping by sea. If a small lot of expensive coffee can bear the cost of paying freight for a full container then it may sometimes be just as cost effective to use airfreight instead.
Shipping is the final step when you have gone through the processing of researching, contacting coffee suppliers and signing a contract with them in Vietnam. Most international coffee buyers would outsource to Vietnam Freight forwarder, who provide you with a full set of services and shipping options to get your coffee from the factory in Vietnam to its desired destination.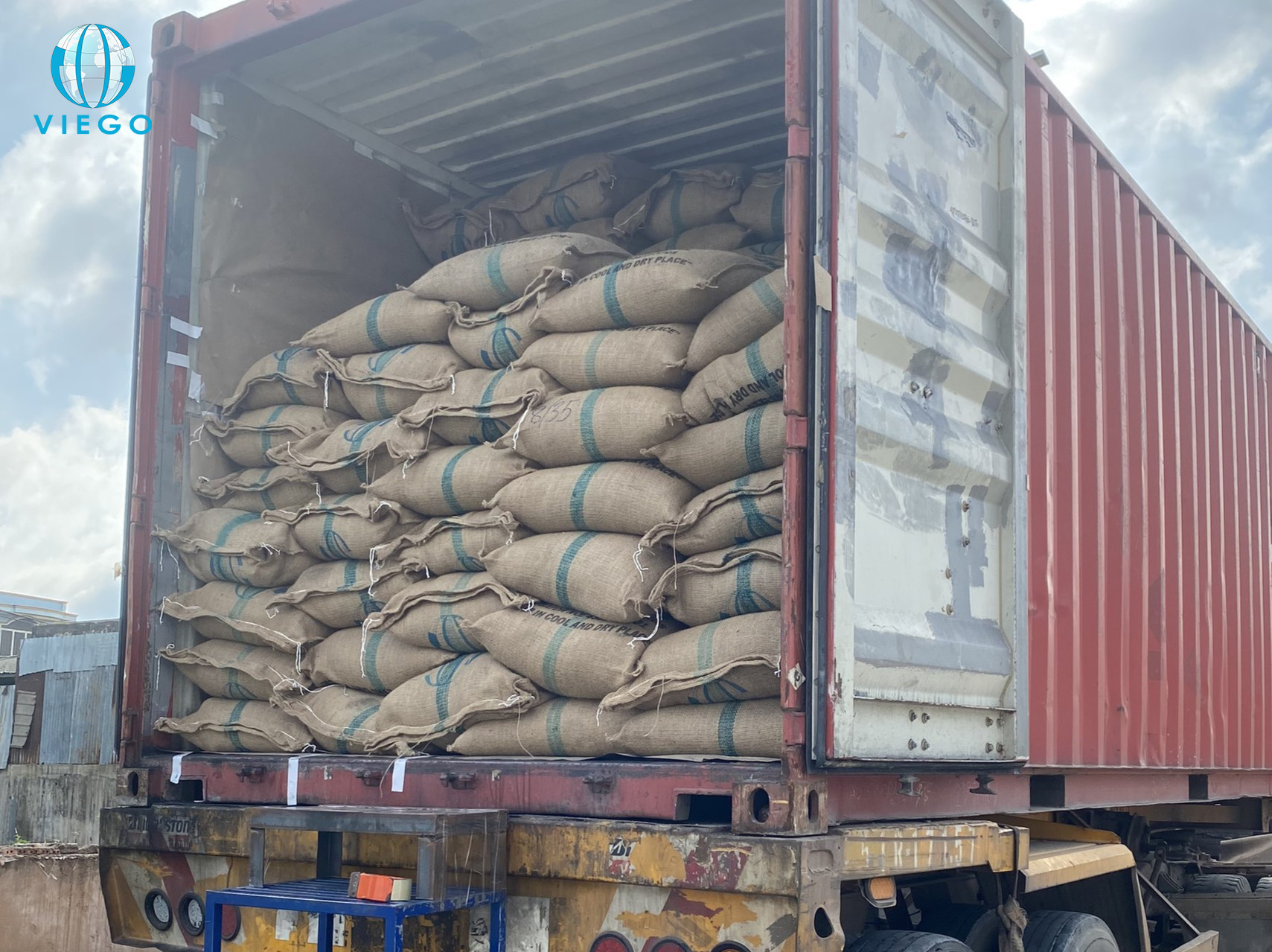 Vietnam green coffee beans in FCL. Source: Viego Global Team
2. Most popular terms to ship coffee from Vietnam
The shipping trade terms or "Incoterms" for shipping coffee from Vietnam vary based on the forwarder and their service. There are a lot of Incoterms but here in Vietnam, the coffee trade mostly uses three basic contract conditions: FOB, CIF, and EXW. And especially, among these three shipping terms, most coffee contracts are effectively FOB – in that the the buyers pay the freight. Buyer prefer this because they can negotiate rates of freight that individual exporters or producing countries may be unable to obtain. The following is a list of the most used terms for shipping coffee from Vietnam:
EXW (Ex Works) from Vietnam 
EXW is less ideal than FOB or CIF for international shipments. For EXW shipping, as a buyer, you shall arrange the full shipment, from the supplier's warehouse to the cargo's ultimate destination. The buyer is liable and responsible for almost every step. The seller is only responsible for the Bill of Lading or Air Waybill, and ensuring that the goods are available for pickup at the named place, usually their factory, at a time agreed with the forwarder.
FOB (Free On Board) from Vietnam
Free On Board shipping simply means that Vietnamese supplier is in charge of the shipment until the shipment is loaded on the international port of departure. The responsibility falls on you, and/or your freight forwarder to arrange the rest of the shipment.
CIF (Cost, Insurance, And Freight) from Vietnam 
Under the CIF Intercom, the seller is responsible for your coffee until they are exported to a port named in the sales contract and are fully loaded onto a transport ship. CIF shipping tends to include insurance as well.
CFR (Cost And Freight) from Vietnam
CFR shipping is an international shipping intercom that features the benefits of CIF shipping, without the required insurance.
DAT (Delivery At Terminal) from Vietnam
DAT shipping means the supplier is responsible for your coffee until they're delivered at the international terminal of arrival.
DDP (Delivered Duty Paid) from Vietnam 
DDP is also known as "Door To Door" shipping. The seller arranges the entire shipment from Vietnam factory until the goods arrive at your location, as well as all fees, taxes, duties, customs.
3. Shipping Documents Required for Coffee trading in Vietnam
Coffee transactions are carried out by transfer of title rather than by the physical handing over of coffee not only in Vietnam but also all over the world. Title to goods is represented by the bill of lading, accompanied by a set of additional documents, together known as the shipping documents. Following the relevant customs procedures when importing coffee from Vietnam is one of the most crucial aspects of doing business. In Vietnam, coffee is not an export prohibited item or an export restriction. Therefore the company can carry out normal commercial export procedures, without having to apply for an export license. The following are additional documents to ship coffee from Vietnam that shall be requested by authorities in Vietnam: 
Bill of Lading
BOL (Bill of Lading) is an essential document for all international cargo shipments. The BOL is used for sea shipping, while for airfreight an airway bill is applied. The document will be used as proof that you've legalized the transfer and allow you to unload your shipment on the destination port. 
Business Invoice
The business/commercial invoice you use is going to be used as proof of value for the goods when you have to make a customs declaration in your country. 
C/O form B
The 'Certificate Of Origin' document is an essential document that certifies the origin country of the goods. If you manufacture in Vietnam, you need this document as proof that the products were manufactured in the country. Vietnamese government agencies can issue this document, and if you're using a supplier, they can sign this document for you. Some shipping companies also offer CO services. All countries that signed a Free Trade Agreement with Vietnam can benefit from a CO because it qualifies them for tax exemptions upon import.
C/O form ICO
ICO certificates of origin are issued for every international shipment of coffee from producers to consumers (whether the importing country is an ICO member or not), and are used to monitor the movement of coffee worldwide. The forms contain details of identity, size, origin, destination and time of shipment of the parcels in question.
Insurance certificates ( If any)
The vast majority of the trade in coffee today is on FOB terms. In the case of CFR and FOB contracts, you as a buyer have to cover the insurance ahead of the contractual shipment period. Without this stipulation the coffee might be loaded without any insurance cover in place, leaving the exporter at risk.
Certificate of Quality, Quantity, Weight Packing List
Sales contract
Phytosanitary of Certificate
Fumigation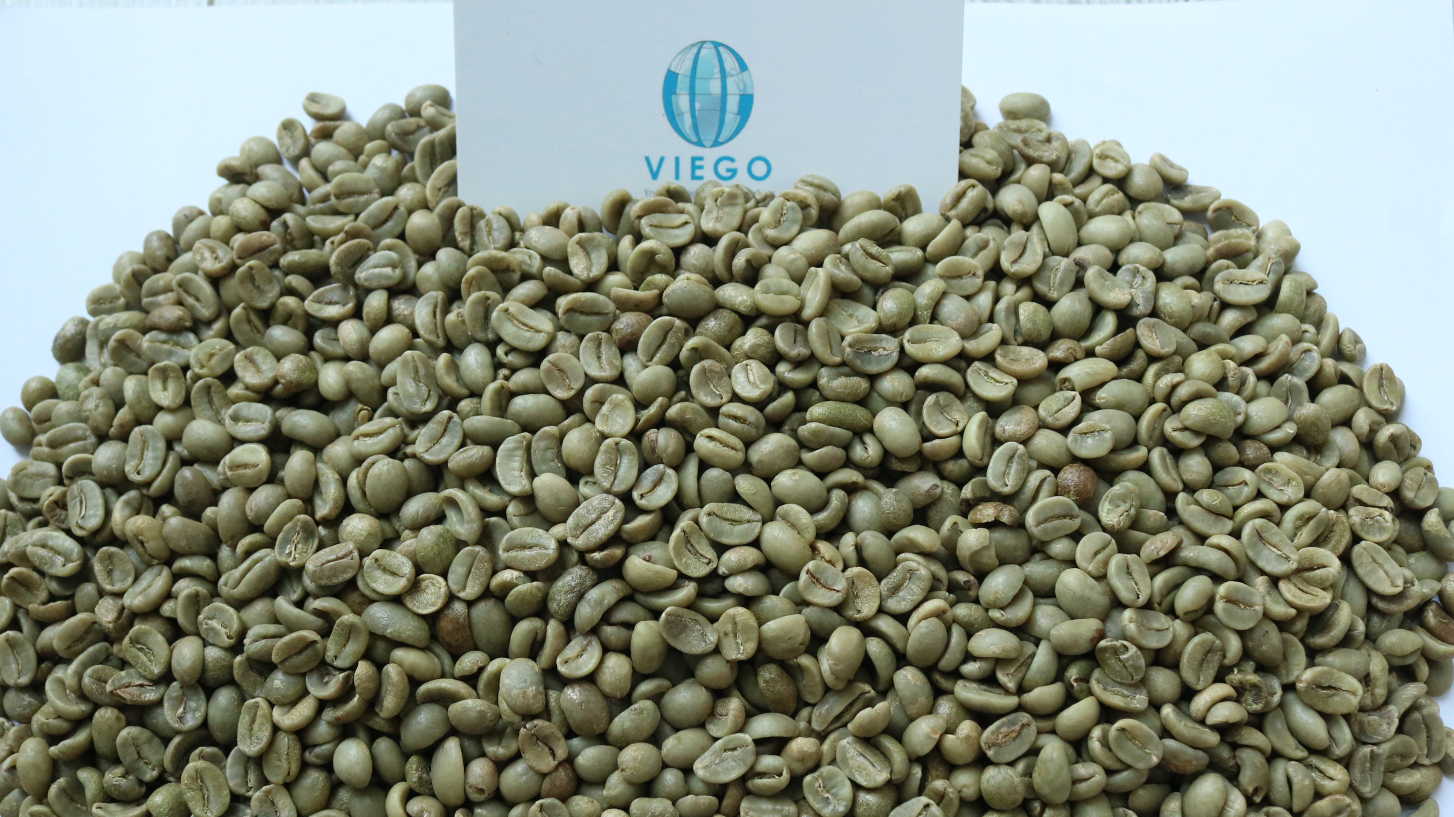 Arabica green coffee beans from Vietnam. Source: Viego Global Team
4. Coffee Export tax and HS CODE in Vietnam
According to Chapter 09 of Vietnam's import and export tariff in 2020, Robusta coffee beans or Arabica coffee beans, whether roasted or not roasted, with decaffeinated active ingredients are applied the following: 
HS CODE: 0901
Export tax: 0%
5. Shipping port in Vietnam
Vietnamese ports are located throughout the nation, in the North, Central, and Southern, giving Vietnamese factories an advantage in fast shipping their merchandise internationally. Along its 3,200km-long coastline, the country has a total of 114 seaports serving an important role in global trade. Let's take a look at these the largest ports of Vietnam – Saigon port (south), Hai Phong port (north), and Da Nang port (central): 
Saigon Port – Ho Chi Minh City
Port code: VNSGN
Saigon Port, the oldest ports in the country with more than 130 years old, has had the highest throughput and productivity per annum of the country for years. Located in the southern region, the port covers the entire South-East and the Mekong Delta. The container traffic through the Port of Ho Chi Minh City accounts for over 65% of Ho Chi Minh City's market share and more than 40% of that for the country. The port has an enormous 280,000 m2 warehouse and a 3km pier.
Hai Phong Port – Hai Phong City
Port code: VNHPH
Hai Phong Port is currently the shipping hub of northern Vietnam. Well connected with southern China, along the Vietnamese northern economic corridor, and close to Hanoi, the port lies in a convenient location for international transport. Hai Phong Port has an advanced network system with the newest technology. Its container yard area includes over 700,000 m2, and the port capacity is 10 million tons of cargo per year.
Da Nang Port – Da Nang City
Port code: VNDAD
Lying at one end of the East–West Economic Corridor, an economic corridor connecting Vietnam with Laos, Thailand, and Burma, Da Nang Port is the third largest port system in Vietnam. With the total area of nearly 300,000 m2, the port is currently serving an increasing number of large cruise ships docking. The port is undergoing a huge upgrading, including expanding Tien Sa Port in to boost the capacity of receiving ships and increase the warehouse area up to 50ha. The expansion of Tien Sa port will contribute to making Da Nang port a modern facility able to accommodate container and tourist ships with high loading capacities.
Here is the list of other big international seaports in Vietnam:
Vung Tau Port – Vung Tau city
Port code: VNVUT
Quy Nhon Port – Quy Nhon city
Port code: VNUIH
Quang Ninh Port – Ha Long city
Port code: VNQNH
Cua Lo Port – Vinh city
Port code: VNNGT
Dung Quat Port – Quang Ngai province
Port code: VNDQT
Chan May Port – Thua Thien Hue Province
Port code: VNCMY

 
Optimizing your global business in Vietnam with Viego Global
Being presence at the factory location, Viego Global has the capability to professionally source, manufacture and execute order providing maximum benefit to our clients in terms of delivering a wide range of products at the best competitive pricing. Our services are designed to to handle every single step of your business in Vietnam for you, from coffee R&D and coffee sourcing, coffee quality assurance, production support to coffee logistics. Please contact us HERE for further support!