Products are the lifeline when it comes to doing business. You require to source goods at wholesale rates to your local clients. Pricing, condition and transportation are essential factors. Furthermore, the country to source from also matters to a great extent. And among all other countries, sourcing green coffee beans from Vietnam gives you a new edge. However, knowing the origin of the coffee beans, is only the beginning of a long list of properties needed to be known about the coffee beans being considered for purchase. Grinding this ultimate guide for a better understanding on the green coffee beans quality from Vietnam. 
We've created this series to provide a deeper insight on Vietnam's Coffee Market, along with tips on how to select the best beans from Vietnam for your business. Jump to: 
1. Overview of green coffee beans processing technique in Vietnam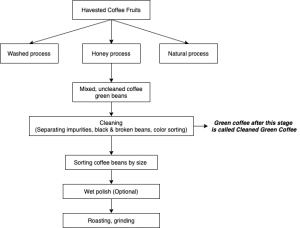 Processing Vietnam's Green Coffee Beans Summary
Assembled & designed by Viego Reseach Team
After harvesting, the beans are sorted and cleaned by flotation to separate unripe, overripe, and damaged cherries and remove dirt and leaves. In Vietnam, coffee beans are most commonly processed using one of three methods: natural, washed or honey processing. They are then processed and dried to a moisture level of about 11% by either of three methods. Read the details of each processing method on how Vietnam's coffee beans are processed. After being processed, the beans are sent to a mill for hulling, where the outer layers of the beans, including the parchment, are mechanically removed. To separate impurities, black and broken beans, the producers use color sorting machine to shoot the odd ones out. The beans are then sorted by size and weight, examined to remove any unacceptable beans, and graded on the basis of size, processing methods and taste. The beans may be also wet polished to remove any silver skin remaining on the beans. As a result, the so-called green coffee beans are bagged, stored and shipped to importing countries for roasting and grinding. Therefore, a number of factors affect the green bean quality, starting at cultivation, continued by picking, drying, processing, milling, storing and transporting. 
2. Are you getting the best green coffee beans from Vietnam?
Look at the appearance of the green coffee beans
To control the quality of your purchases, you must always get a representative green coffee bean sample for your first-hand evaluation. When receiving the sample, it is necessary to visually inspect the spread of beans for color, color variation, bean size, bean shapes, and general uniformity. A non-uniform bean appearance indicates poor preparation or blending of different types of coffee beans. If this happens, it will reveal itself even more after the beans are roasted. Various bean sizes and shapes in one sample show a lack of proper preparation. Presence of many defects, definitely means that the beans have not been well produced. Note the number and type of defects refer to the grading chart. If there are many defects, sort out the defects and weigh for wt% content.
Also remember to pay close attention to the beans' color. Faded green to gray color mean that some deterioration has occurred in the shipment. A gray color means serious quality deterioration, such as over heated and prolonged storage. Many black beans will give a "dirty" taste while white beans could weaken the flavor, hence resulting in a low grade coffee.
Know your bean's processing method
You should always inquire about the coffee processing.  Since coffee begins fermenting immediately upon picking, make sure that your green coffee beans are processed upon harvesting without delay. Processing damage can occur from the time the ripe fruit is picked until it is processed. For instance, fermentation, rotting, mold growth, over-heating or improper storage. Therefore, ask the Vietnamese supplier as much as possible about the processing procedure they apply for the green coffee beans. How they use the fermentation tanks and why?  Do they separate out coffees that float to the top of the tanks during fermentation?  After pulping, do they separate coffees by density before adding them to the tanks?  If coffee pulp is present in the tanks during processing, it can result in brownish tinges on the green coffee beans.  This is also indicative of harvesting over-ripe coffee cherries.
Natural processed coffees will often be covered in brown silver skin which has attached itself to the bean.  Green (under ripe) coffee also has a silver skin attached to it, but this cannot be removed by simple rubbing. Notice the under-ripe green coffee beans with this tip. Wash-processed Arabica coffees beans should be even and bright.  The beans should not have an uneven or dull color.  Otherwise, there is a high likelihood that they have been dried or processed incorrectly. 
Have a smell at the green coffee beans
Before buying any green coffee beans from Vietnam, remember to smell the green beans to determine if there are any "off" odors, like mold, ferment, smoke or foreign matters. These signs could be easily detected at this point. Fresh coffee beans should have an intense aroma. If you can not easily smell your beans, then they are likely to well past their prime. You could notice the beans have gone stale when they lose pretty much all coffee aroma. They just smell bitter now. If you detect an especially sour smell, it a sign the bean's gone bad. This can be because the beans were exposed to moisture and have fermented in the meantime, or possibly they've gone rancid
Find reputable Vietnamese suppliers with a good-quality source of green coffee beans
In most cases, the buying process is a trade of trust. The trust in those who will follow-up at origin with producers, farmers and suppliers to ensure that all good-quality coffee practices are met before the coffee is being shipped. When you are seeking for a trustworthy coffee supplier from Vietnam, look for these must-know elements. Ideally, you want to have the opportunity to evaluate the coffee from the start of the buying process to lower the potential risks and meet your standards. However, if you are a foreigner exporter sourcing coffee from Vietnam, you had better have someone accompany you on the way.  At Viego, we do all of that and much more.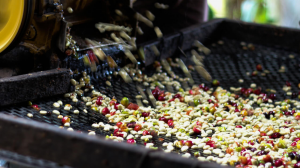 Check out our complete list of green coffee bean suppliers in Vietnam that pay strict attention to their beans
Viego Global – Your trusted sourcing partner in Vietnam
Are you sourcing coffee green beans from Vietnam? Do you need a supply of good quality and at good price? If you want to connect with any qualified coffee manufacturers in Vietnam, please comment below so we could help you out easily. Being presence at the factory location, Viego Global has the capability to professionally source, manufacture and execute order providing maximum benefit to our clients in terms of delivering a wide range of products at the best competitive pricing. Please contact us HERE for further support!