Vietnam, the world's king of Robusta coffee, has long been known for its strong and flavorful local coffee. During the last decade, green coffee beans accounted for more than 90% of Vietnam's exported volume. Exports of highly processed coffee, on the other hand, have surged in recent years. According to Vietnam custom data, over 63,000 tons of roasted and soluble coffee goods were exported in 2016. The distinctive intense, sweet taste of Vietnamese coffee is mainly due to the flavor of the beans and especially the roast profile. Today's blog covers three most common roast levels of Vietnamese coffee beans. Read on to learn more about different types of roasted coffee in Vietnam.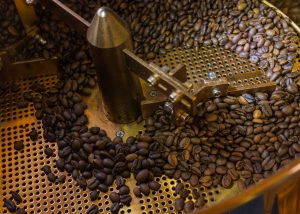 Coffee  quality  is  closely  related  to  its  processing. Normally,  the processing  procedure  of  coffee  starts  from green coffee beans that are subjected to a heat treatment, resulting in roasted coffee beans. Apart from the quality of green beans, the roasting method plays a vital  role in defining the quality of this beverage. 
In Vietnam's local market, coffee beans are usually over-roasted as the Vietnamese prefer a stronger coffee rather than the regular ones. That is why Vietnamese coffee is renowned for having a very thick and dense mouthfeel. The beans are roasted for longer, which results in a much thicker texture and a more intense flavor of coffee. Flavorings may even be added during the roast, including butter, sugar, vanilla, and cocoa to give the beans a slightly sweeter flavor.
While there is some truth to this, Vietnamese street coffee in particular is often mixed with additives. To thicken the drink, many street coffee vendors add corn starch, soy bean powder, and even more butter. On the other hand, for export roasted coffee, a pure roasting method without any additives is widely used. For this pure coffee, while the methods vary from simple to the expensive ones, there are three main types of coffee roasts: Light roast, medium roast, and dark roast.
Learn more about different types of coffee beans in Vietnam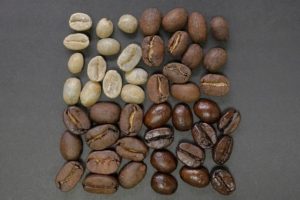 Roasted beans – from green, to light, to medium, to dark.
2. Light roast level (first crack)
Light roast coffee is easily identified by its light brown color, giving off a more acidic flavor while preserving the origin of the coffee bean. Light roast coffee beans are roasted between 175-200°C to either just before or right at the first crack. The result is dry-looking and pale coffee beans with a light-bodied taste.
Although light roasted coffee is less bitter, it has  the most caffeine and the most acidity. Having been exposed to heat for a shorter period of time, the beans result in some exquisitely nuanced flavors that maintain much of the original taste imparted from the soil in which they were cultivated.
A cup of light roast coffee reveals sweetness taste and distinct fruity undertones, even with a subtle floral notes
Characteristics:
High acidity, high caffeine

Toasty, grain-like taste

Fruity smell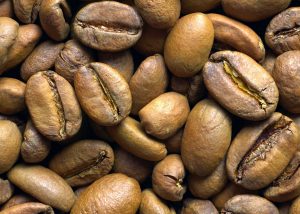 Light roasted beans
3. Medium roast level
Most coffee lovers favor a medium roast because of its well-balanced flavor profile. In this method, coffee beans are roasted a little longer than the light roast until the color turns a slightly darker shade of brown. To be exact, the longer roasting brings more flavors to the beans and results in less acidity compared to the light roast. 
Medium roasts are generally roasted to the end of the first crack or the beginning of the second crack at temperatures between 200 and 220°C. The result is a fuller body, though the flavor profile tends to be more condensed. The beans appear to be medium brown in color, with a stronger smell but no oil on the surface.
A cup of medium roast coffee will most likely taste caramel sweet, with noticeable overtones of fruit and chocolate, less acidic and medium caffeine amount. In fact, this roast is the preferred type for most Americans. 
Characteristics:
Moderate acidity, medium caffeine

A sugary, sweet taste

Balanced flavors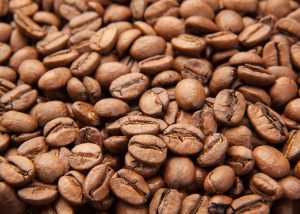 Medium roasted beans
4. Dark roast level (second crack)
The dark roast beans are roasted a bit longer compared to the previous two variants. These beans have been roasted long enough for the oils to come out. This results in a shiny black bean, and quite oily. Dark roasts are generally not acidic, and the general rule is that the darker the beans, the less acidic and caffeine they are.
The dark roast occurs at the end of the second crack or slightly beyond, and reaches a temperature of little over 230°C. At this stage, the flavors of origin have all been eliminated because of the higher temperature and roast duration, which results in a bold and rich body and texture.
Dark roast is traditionally used to hide faulty or lower-grade coffee beans. They are roasted to the point that none of the distinguishing characteristics can be detected. Coffee roasters are now making dark roasts to bring out the deeper and darker but pleasant notes in coffee beans, rather than roasting away the unpleasant flavors.
Characteristics:
Low acidity, low caffeine

Bittersweet taste

Bold flavor
Dark roasted beans
Viego Global – Your trusted sourcing partner in Vietnam
As a trusted sourcing company based in Vietnam, we have access to various genuine sources of roasted coffee beans with competitive price. Being connected with a good and trustful supplier of coffee is everything when it comes to sourcing coffee from Vietnam. At Viego Global, we know it's more than just finding the right coffee supplier since every step of the supply chain requires proper implementation in order to ensure Vietnam quality coffee beans are well delivered to clients. We always try our best to determine the best suppliers, including coffee farms and coffee collectors based on customers' needs. During research on potential suppliers, discussion and factory visits, we inspect every single thing from business license, capacity, to past orders as well as the equipment and the workers' competence. This is why Viego Global makes sure that you can reach the best coffee suppliers at the most competitive price from Vietnam.
Apart from Coffee Products, we also provide insights on other Agricultural products from Vietnam. Jump to: Vietnam's Tapioca Market, Vietnam's Pepper Market, Vietnam's Cashew Market , Vietnam's Rice Market and also check many other tips for sourcing from Vietnam.