Being the world's largest exporter of Robusta coffee, Vietnam is offering an abundant source of quality coffee at a cheaper price. This ideal sourcing hub is opening huge business opportunities for the international coffee buyers. There are many ways to source your coffee beans from Vietnam, and direct buy from coffee farms is definitely something you should take into consideration. To help you get acquainted with the international trade in Vietnam's coffee market, we've created this guide on how to buy directly from coffee farms in Vietnam. This essential guide will cover the following:
1. Is Farm-direct sourcing always a good choice?
Direct buy from coffee farms or cooperative is the approach involving sourcing green coffee beans directly from your preferred farmers or producers in Vietnam. Although it may sound like a good approach to reduce costs by cutting out the middleman, it's not that simple. For many reasons, buying coffee directly from a farm can be a difficult process for new business owners given all of the required taxes and permits. The main problem will be to have it prepared and shipped to your country. Taking into account these pros and cons before choosing this sourcing approach.
Pros:
Lower prices;
Transparency about farming practices and coffee quality;
Building relationships with farmers.
Cons:
Difficulty with exporting procedures;
Language barriers;
Increased liability.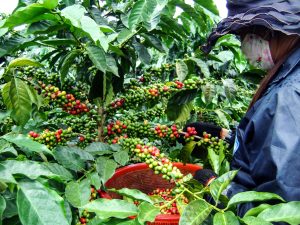 2. How to buy your own coffee directly from the farms in Vietnam?
Know where your beans come from in Vietnam
The most important thing you should bear in mind is the location of the coffee farms or factories. In most case, the factories are located in provinces that cultivate coffee plants because right after picking up ripe cherries, producers need to process their coffee cherries promptly for the best quality. Therefore, knowing where Arabica, Robusta are grown in Vietnam is the key to get the best Vietnam coffee beans. Check out this map of coffee-production area in Vietnam: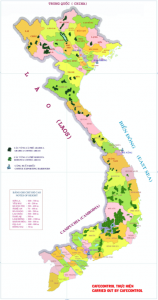 Click to enlarge map (.jpeg 1.4 MB, opens resizable window) >>
Furthermore, coffee beans from each region in Vietnam have their own personalities and taste profiles due to different soil, altitude and climate conditions. In general, coffee from Dalat is known for their flavor from ripe fruits with sour taste and sweet aftertaste; Khe Sanh coffee has sour flavor with light body and honeyed aftertaste; coffee from Son La has slightly sour and pure taste, wild orange aroma and honeyed aftertaste. For that reason, choosing types of coffee from Vietnam that meet your customer needs require considerable market research. Getting through all of our guide on the series "Vietnam's Coffee Market" to strike the right chord before making a decision.
Inspect what the coffee farmers can provide you.
When it comes to coffee farms, there is a huge number of them in Vietnam. However, finding quality farms is a big deal. You may need to vet them as much as possible before you decide to work with them. Therefore, before searching for farms, setting up a list of must-have criteria for choosing farms is of great importance. They all go around these invaluable questions:
Be aware that not all farms or co-ops in Vietnam have infrastructure to prepare coffee for shipping. Ask them if the coffee you decided to buy is ready for exporting. Is it passed through the mill already or the screen size the right one already?
Make sure that it is stored in a safe place. Confirm storage practices. Green coffee beans can lose significant quality when they are not stored properly. And it can completely change the quality of the final product.
Which currencies are you negotiating your price? USD, Euro or VND? Remember to keep it in mind as currencies in developing countries fluctuates a lot.
All about the payment. How and when do you pay your coffee? Directly at the farmer or once it arrived at your roastery?
Have a look at contracts, insurances and responsibility; How do you manage if the coffee loses quality during the shipping? Who will pay for it?
Tips for easing the direct process:
When directly sourcing coffee in Vietnam, you will need to communicate and negotiate a lot with the farmers or factories to get the best deal. If they speak fluent English and can understand your English well, you may get away without a Vietnamese speaker's help. Otherwise, you should consider engaging a Vietnamese speaker, preferably a native speaker who also knows the business culture to help make sure your farmers understand your expectations clearly and completely.
Do some research on the local exporters. Farms in Vietnam often sell coffee directly to some purchasing agent who work with local exporters or partner organizations created to assist farmers in exporting their coffee. If you opt to buy coffee directly from a farm, you'll need to communicate with their preferred exporter or partners to discuss the shipping procedure.

3. Is importer sourcing a better option?
Buying coffee from an importer or a sourcing agent can eliminate much of the difficulties involved in the sourcing process. Sourcing agent can make the sourcing process easier if they sell the coffee you want. However, it also means you won't have the experience and transparency of buying beans directly from a farmer. Here are the main pros and cons:
Pros
Simplifying ordering procedure;
Wide variety of product;
Expert opinions;
Logistics involved;
Reduced liability.
Cons
The decision on how you prefer to source coffee really depends on your experience. For first-time coffee buyers, we recommend using a sourcing agent that suits your needs and preferences because of the wide variety, simplicity and flexibility provided by this type of service. If you have more experience in coffee-sourcing, farm-direct sourcing could be a great approach to ensure quality and transparency with your farmers. As a conclusion, we recommend first looking for a local sourcing agent that matches your business ethics and carrying the coffees you want to buy.
Viego Global – Your Trusted Sourcing Partner in Vietnam
At Viego Global, we know it's more than just finding the right coffee supplier since every step of the supply chain requires proper implementation in order to ensure Vietnam quality coffee beans are well delivered to clients. We always try our best to determine the best suppliers, including coffee farms and coffee collectors based on customers' needs. During research on potential suppliers, discussion and factory visits, we inspect every single thing from business license, capacity, to past orders as well as the equipment and the workers' competence. This is why Viego Global makes sure that you can reach the best coffee suppliers at the most competitive price from Vietnam.
Are you sourcing coffee beans from Vietnam? Do you need a source of high quality coffee? If you want to connect with any qualified coffee producers in Vietnam that pay strict attention to their beans, please leave your contact HERE so we could help you out easily.