Being the world's second-largest coffee producer, Vietnam is full of incredible business opportunities for entrepreneurs and business owners all over the world to source coffee. And of course with in this global playground, you may probably find it a bit risky while embracing the opportunities that come with it.  Whatever the root cause for sourcing mistakes, leaving them unchecked can end up being very costly for your company. Here are 4 of the most common – and costly –  sourcing mistakes you're likely to encounter when sourcing Vietnam coffee beans, along with steps you can take to avoid and correct them. Grind this guide before jumping into the this "golden" market.

1. Don't know where your coffee beans come from in Vietnam
The most important thing you should bear in mind is the location of the coffee factories. In most case, the factories are located in provinces that cultivate coffee plants because right after picking up ripe cherries, producers need to process their coffee cherries promptly for the best quality. Therefore, knowing where Arabica, Robusta and Liberica are grown in Vietnam is the key to get the best Vietnam coffee beans. Check out this map of coffee-production area in Vietnam: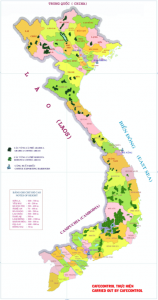 Click to enlarge map (.jpeg 1.4 MB, opens resizable window) >>
Furthermore, coffee beans from each region in Vietnam have their own personalities and taste profiles due to different soil, altitude and climate conditions. In general, coffee from Dalat is known for their flavor from ripe fruits with sour taste and sweet aftertaste; Khe Sanh coffee has sour flavor with light body and honeyed aftertaste; coffee from Son La has slightly sour and pure taste, wild orange aroma and honeyed aftertaste. For that reason, choosing types of coffee from Vietnam that meet your customer needs require considerable market research. Getting through all of our guide on the series "Vietnam's Coffee Market" to strike the right chord before making a decision.
2. Fail to inspect your coffee sample when buying Vietnam coffee beans
In coffee farming, it is vital that each and every step, from seed to cup be strictly controlled in order to ensure quality. There are dozens of variables that can affect the quality of coffee from the altitude, the soil quality, to the type of bean, processing techniques and much more. Therefore, to control the quality of your purchases from Vietnam, you must always get a representative green coffee bean sample for your first-hand evaluation. The cost of samples will always be a more worthwhile investment over taking the chance on a full order you have not had the opportunity to inspect. If you do the latter, you may be stuck with a large number of products that lack the right level of quality. This might be called "probation period." Once you are satisfied with the samples, you can then place a series of increasingly larger orders from the same supplier. 
When ordering coffee samples from Vietnam, one thing worth bearing in mind is that you should always purchase a coffee sample from more than one supplier. When you start your search for the perfect Vietnam coffee suppliers, make a list of the top five that meet your needs and order samples from each of them. Once you've received your samples, you'll then be able to make a make a well-calculated decision for which supplier you should use for that types of coffee.
Following these steps to evaluate the quality of your green coffee beans sample from Vietnam and make sure you are getting the best green coffee beans from Vietnam.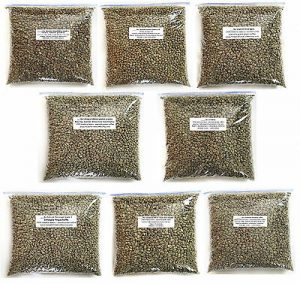 3. Lack of well-defined criteria for Vietnamese coffee suppliers
When it comes to wholesale coffee suppliers, there is a huge number of them in Vietnamese marketplaces. However, finding quality suppliers is a big deal. You may need to vet them as much as possible before you decide to work with them. Therefore, before searching for suppliers, setting up a list of must-have criteria for choosing suppliers is of great importance. A great way to begin this research is by asking them about their standards pertaining to product quality, logistics, certification, and client satisfaction. They all go around these invaluable questions:
        Are you dealing with manufacturing or a trading company?
This can help you negotiate the best deal. Consider asking them directly about their credentials or take a look at their catalog.
       How long have they been in business and which countries have they exported their coffee to?
The longer they've been around, the higher the chance they're running a reputable operation.
       What is the minimum grade of coffee beans and the minimum order quantity they accept?
Figuring out whether they can afford large quantities supply. The wider choice of different coffee materials they offer, the higher likelihood of that supplier securing their supply ability.
       Do they obtain any quality certifications for coffee beans? 
In Vietnam, coffee suppliers providing good-quality coffee beans should conform to the following quality standards: ISO 9001: 2015, HACCP, GMP certification. Besides, in terms of coffee cultivation technology for sustainable development, the best quality coffee beans should obtain national and international certifications, such as 4C; VietGAP; UTZ; RFA.
        All about the logistics process
The logistics process shows if the supplier is a well-run business and can ship their product to you consistently. Following up with questions about shipping times, guarantees, or what happens if there are delays in shipping, lead time, payment method and deliver terms accepted.
Read the full detailed guide for the above questions on how to find wholesale coffee suppliers in Vietnam.

4. No Vietnamese speakers on the team
Sourcing coffee beans from Vietnam can improve your productivity, efficiency and bottom line, but sometimes language barriers can get in the way. From simple miscommunications to cultural gap, language barriers can cause international business relationships to grind to a halt. In cross-border transactions, you cannot afford to settle for "maybe" or "probably" by saying that you and your supplier kind of understand each other's expectations, which can lead to failure, to say the least. Especially in coffee sourcing industry in Vietnam, you will need to communicate and negotiate a lot with the farmers, suppliers or factories to get the best deal. If they speak fluent English and can understand your English well, you may get away without a Vietnamese speaker's help. Otherwise, you should consider engaging a Vietnamese speaker, preferably a native speaker who also knows the business culture to help make sure your suppliers understand your expectations clearly and completely.
One of the most effective strategies for overcoming language barriers is to partner with local sourcing agents that have language capabilities. When you're selecting your global sourcing partner, choose a firm that has language and translation capabilities. The right partner will be able to navigate your sourcing market with conversational fluency, but also be able to translate written documents as part of the process. At Viego Vietnam, we have a sourcing team with high level of competence in English and intimate knowledge of Vietnam's coffee market. If you're contemplating launching a coffee sourcing initiative in Vietnam, Viego Global can help.
Viego Global – Your Trusted Sourcing Partner in Vietnam
At Viego Global, we know it's more than just finding the right coffee supplier since every step of the supply chain requires proper implementation in order to ensure Vietnam quality coffee beans are well delivered to clients. We always try our best to determine the best suppliers, including coffee farms and coffee collectors based on customers' needs. During research on potential suppliers, discussion and factory visits, we inspect every single thing from business license, capacity, to past orders as well as the equipment and the workers' competence. This is why Viego Global makes sure that you can reach the best coffee suppliers at the most competitive price from Vietnam.
Are you sourcing coffee beans from Vietnam? Do you need a source of high quality coffee? If you want to connect with any qualified coffee producers in Vietnam that pay strict attention to their beans, please leave your contact HERE so we could help you out easily.