When it comes to coffee beans, the two most common commercial species, Arabica and Robusta, are two familiar names. But there is a lot more to coffee variations and genetics than that. One of the lesser known species is Liberica which accounts for less than 2% of all commercial coffee worldwide. As one of the world's rarest coffee, Liberica is only cultivated in some Southeast Asian countries and limited areas in Western and Central Africa. Vietnam takes pride in being one of the few countries that produces an amount of quality Liberica. Read this essential guide to have an overview of Vietnam Liberica Coffee when sourcing coffee in Vietnam.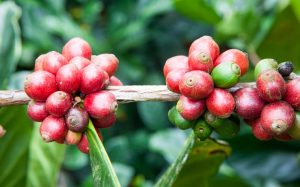 1. Vietnam Liberica Coffee and its history
In Vietnam, there are 3 types of coffee grown: Arabica, Robusta and Liberica. We have been talking a lot about Vietnam Robusta and Vietnam Arabica in our previous coffee series blogs, which you can check out here. For Vietnam Liberica, it provides low yielding compared to the other two. Liberica coffee is called "cà phê mít" (as its leaves look like jackfruit's leaves) in Vietnam. The Liberica species consists of two main varieties: Liberica and Exelsa. It has a somewhat strong bitter taste, especially the back-palate flavor – reminding of burnt wood. Hence, it's usually used to mix with Arabica and Robusta coffee to create different flavors. 
It takes five years for a Liberica plant to begin to bear in Vietnam. This coffee tree is drought tolerant, less water needed, so they are often grown in extensive farming. Due to its drought tolerance and good resistance to pests and diseases, liberica coffee is preferred to use as the rootstock for other popular coffee varieties.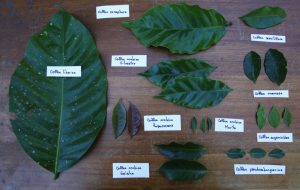 Liberica leaves are noticeably larger than other species. Source: CATIE Collection
In the 1890s, the Liberica species was brought to Indonesia and the Philippines to replace the Arabica plants that had died in large numbers due to coffee rust disease. Coffee was first introduced to Vietnam by an obviously coffee-crazed French priest from 1857. Dissatisfied with the yields of coffea Arabica, these French colonists introduced the Robusta and Liberica varieties in 1908. Liberica then proved to be more resistant to diseases and pests, adaptable to hotter climates and lower altitudes, and drought resistant. Liberica, on the other hand, is not as widely produced as Arabica and Robusta in Vietnam nowadays because of its low yield and difficult cultivation and harvesting.
2. Where in Vietnam is Liberica coffee grown?
Liberica coffee is grown in numerous regions in Vietnam, including Nghe An, Quang Tri, Gia Lai, Kon Tum, and Dalat where the environmental and climatic circumstances are ideal for this coffee varietal.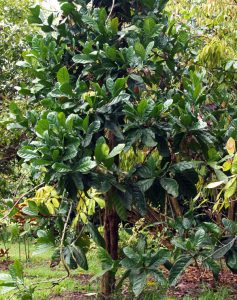 Mature Vietnam liberica coffee plants
In the Central Highlands of Vietnam, Liberica coffee is frequently harvested late in the 12th lunar month due to its growth condition. The rainwater enables its blossoms to bloom. Cherry coffee will thus begin to grow after other types of coffee have been harvested. 
Cherries are mostly harvested by hand, either stripping both unripe and overripe cherries from the tree, or by selectively picking only ripe cherries from the tree and leaving behind unripe, green cherries to be harvested at a later time. The most common processing method applied in Vietnam is the dry method after cherries have been harvested. By this method, cherries are dried under the sunlight or in mechanical driers. 
Meanwhile, large-scale coffee producers mainly use wet processing technology. This is the most advanced processing technology today, and is applied in many other countries in the world.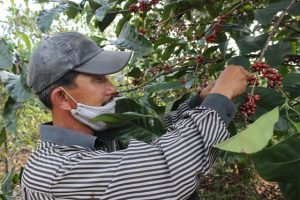 A farmer in Quang Tri province harvests the ripe liberica coffee beans
3. What does Vietnam Liberica Coffee taste like?
Liberica coffee has a distinctive tart, fruity, dark and mysterious taste. The 1% caffeine content puts Liberica way behind Robusta (2.6%) and Arabica (1.6%).
In blends, it enhances the middle and back palate and lingering finish of the coffee, giving the cup more substance and power. Brewed on its own, it is a compelling and unique coffee experience. Liberica coffee has the potential to be very sweet, with lingering citrus notes.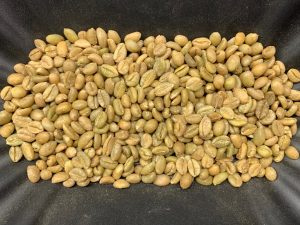 Green Vietnam liberica coffee beans
It is used in Vietnam as a blending coffee, where it's mixed in with other coffees to create complexity and depth. With its distinct sour flavor, liberica coffee is commonly used in European instant coffee as it is well-suited to European tastes.
4. Main categories of Liberica Coffee to buy in Vietnam
Vietnam offers a wide range of good-quality coffee at a cheaper rate. These are main types of Liberica coffee to buy in Vietnam that you should take into consideration:
Whole green/roasted beans
Liberica coffee washed/unwashed grade 1 on screen No. 18

Liberica coffee washed/unwashed grade 1 on screen No. 16

Liberica coffee washed/unwashed grade 2 on screen No. 13
Processed coffee
Drip coffee bag (Liberica mixed)

Whole ground bean (Liberica mixed)

Instant Coffee (Liberica ingredient)
Coffee beans to buy in Vietnam on screen no. 16 and no.18 are the main raw materials for making roasted coffee and ground coffee. Smaller coffee beans such as screen no.13 are often used as mixing materials to reduce prices.
Viego Global – Your trusted sourcing partner in Vietnam
At Viego Global, we know it's more than just finding the right coffee supplier since every step of the supply chain requires proper implementation in order to ensure Vietnam quality coffee beans are well delivered to clients. We always try our best to determine the best suppliers, including coffee farms and coffee collectors based on customers' needs. During research on potential suppliers, discussion and factory visits, we inspect every single thing from business license, capacity, to past orders as well as the equipment and the workers' competence. This is why Viego Global makes sure that you can reach the best coffee suppliers at the most competitive price from Vietnam.
In order to provide a deeper insight on Vietnam's Coffee Market, we've created this series along with tips on how to select the best beans from Vietnam for your business. Jump to: