Vietnam is arguably a premier hotspot for coffee buyers who seek for a variety of coffee beans at a cheaper rate. To have an overview of the coffee industry in Vietnam, you can read our previous blog in the "Vietnam coffee market" series. Coming up next, this guide will help you find out the best types of coffee beans to buy in Vietnam. Read these tips to strike the right chord before making a decision.

1. Vietnam is the paradise for Robusta green coffee beans
Coffee beans to buy in Vietnam vary in their size, shape, color, and flavor depending on the region and conditions in which they were cultivated. The range of unique flavors and aromas between regional varietals is as expansive as the variety of wine available from different vineyards. Most regional varietals will fall into two main categories, Robusta or Arabica. Here in Vietnam, there are 3 types of coffee grown: Arabica, Robusta and Liberica.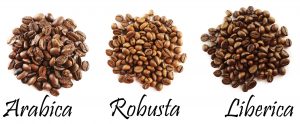 Arabica:
Most of the world drinkers opt for arabica beans, which contain less caffeine and higher acidity. It is considered superior to Robusta because of its delicate flavor. This variety is grown at higher altitudes and can be more difficult and costly to grow. In Vietnam, Arabica are grown mostly in Son La (Northwest), Nghe An, Quang Tri (Central), Lam Dong (Central Highlands). These labor-intensive, low-yield plants produce a high-demand bean that sells for a higher price.
Robusta:
The majority of Vietnam's coffee beans – around 97% – are the robusta variety, International Coffee Council data shows. Known for their bold, harsh, bitter flavor, and high caffeine content, robusta beans are typically used to make cheap, mass-market commercial products, including instant coffee and supermarket blends. Robusta can be grown at lower altitudes, in hotter climates, and with less moisture. Main Robusta coffee growing provinces locate in the Central Highlands, including Dak Lak, Lam Dong, Dak Nong, Gia Lai and Kon Tum. This area has many legends about coffee such as the Buon Ma Thuot brand. There are some geographic indications of the coffee regions ('Buon Ma Thuot', 'Cau Dat – Da Lat' and 'Son La') known for their quality, sweet aroma and strong flavor resulting from the soil characteristics. Since Robusta has fewer growing restrictions and has a generally less desirable flavor, it is usually sold for a lower price than Arabica beans.
Liberica:
Liberica is a low yield type of coffee compared to Arabica and Robusta. In Vietnam, it takes five years for a Liberica plant to begin to bear. The cherries' large pulp makes processing complicated and costly, while the high sugar content (up to 30%) makes Liberica cherries a favourite target of ants and pests. Soon, Robusta and Arabica replaced Liberica as more sensible options.
Map of coffee-production area in Vietnam:

Click to enlarge map (.jpeg 1.4 MB, opens resizable window) >>
2. How Vietnam's coffee beans are classified?
Based on processing method:
In Vietnam, there are three commonly used methods of coffee processing: dry processing, wet processing, honey processing. Accordingly, green coffee is divided into three main types:
Wet / Washed Processed Coffee
Natural / Unwashed Processed Coffee
Honey / Pulped Natural Coffee

Based on grain size:
Sorting by grain size is becoming a common scale for the coffee industry. In Vietnam, the coffee beans are also classified with 3 main size: Screen no.18, screen no. 16, screen no. 13. In particular, the coffee beans after drying will be rayed through perforated metal sheets with diameters ranging from 8 to 20/64 inches. 18 sieves mean 18/64 inches, which translates to 7.1 mm units of measurement, likewise sieve 16 is 6.3mm. When you put a handful of coffee on the 18/64 inches sieve, the remaining beans on the sieve will be classified as 18 sieves, any beans that fall down and the remaining on the 16/64 sieve will be classified as 16 sieves. However, this classification is difficult to be 100% accurate. Therefore, in its classification system, SCA allows a 5% variance with sieve measurements.
| Screen size | Inches | Industry Classification | Africa and India |
| --- | --- | --- | --- |
| 20 | 20/64 | Very large | Elephants |
| 18 | 18/64 | Large | AA |
| 16 | 16/64 | Large | AB |
| 14 | 14/64 | Medium | AC |
| 13 | 13/64 | Small | |
Green Coffee Beans Sizing Chart
These classifications have a considerable impact on price of Vietnam's coffee beans. For more details, you should keep in mind these legitimate documents on Vietnam coffee bean grading standards.
SCA Standards: 
Vietnam Standard System:
3. Main categories of coffee products to buy:
Vietnam offer a wide range of good-quality products at a cheaper rate. These are main types of coffee products to buy in Vietnam that you should take into consideration:
1. Whole green/roasted beans
Robusta/Arabica coffee washed/unwashed grade 1 on screen No. 18
Robusta/Arabica coffee washed/unwashed grade 1 on screen No. 16
Robusta/Arabica coffee washed/unwashed grade 2 on screen No. 13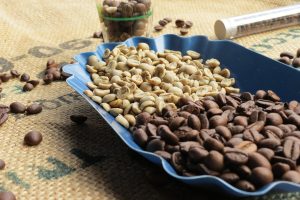 2. Instant coffee 
Spray dried instant coffee powder
Freeze dried instant coffee powder
3in1mix coffee
Instant coffee can/bottle
3. Ground coffee
Drip coffee bag
Whole ground bean
Coffee beans to buy in Vietnam on screen no. 16 and no.18 are the main raw material for making roasted coffee and ground coffee. Smaller coffee beans such as screen no.13 are often used as mixing materials to reduce prices.
4. A general look at Vietnam's coffee exports data
In terms of exporting structure, Vietnam's coffee industry still focuses on raw Robusta coffee, accounting for 94% of total exports. During the last decade, green beans accounted for more than 90% of Vietnam's exported volume. However, exports of highly processed coffee have increased in recent years. In 2016, nearly 63,000 tonnes of roasted and soluble coffee products were exported, customs data of Vietnam exports shows.
Vietnam's coffee is been exported to 90 countries all over the world, coming in second after Brazil only. Germany and the US are two Vietnam's largest coffee consumption market in the first 11 months of 2019 with 12.9% of Vietnam coffee exports by value delivered to Germany and 8.7% sold to the US, customs data of Vietnam exports reveals. Other main export destinations are Italy, Japan, Russian Federation, Spain, Belgium. Especially with Middle East, a rising amount of Vietnam's coffee beans exported to this region has been recorded recently. Robusta green beans coffee is the key product, bringing Vietnam second position in the world for coffee exports and No. 1 for robusta coffee exports.
Viego Global – Your trusted sourcing partner in Vietnam
In order to provide a deeper insight on Vietnam's Coffee Market, we've created this series along with tips on how to select the best beans from Vietnam for your business. Jump to: 
Are you seeking for coffee beans to buy in Vietnam? Do you need a supply of good quality and at good price? If you want to connect with any qualified coffee manufacturers in Vietnam, please comment below so we could help you out easily. Being presence at the factory location, Viego Global has the capability to professionally source, manufacture and execute order providing maximum benefit to our clients in terms of delivering a wide range of products at the best competitive pricing. Please contact us HERE for further support!