Ranked second in the world in terms of export volume, Vietnamese coffee has long been famous for its abundant supply and competitive price. If you have been searching for Vietnamese coffee beans source, then Viego Global Sourcing Blog is the right place for you to discover Vietnam coffee market  and take advantage of it. With the pride of our local product, we at Viego, provide the foreign importers an ultimate guide on Vietnam coffee market , hence avoiding mistakes when doing business with Vietnamese coffee. In this first article of the "Vietnam Coffee Market" series, we will take you around Vietnam to see what happen here with the coffee industry.
1. Vietnam coffee market offers a good supply of Robusta coffee beans at a competitive price
In Vietnam, two main coffees, Robusta and Arabica are put into production. Much of Robusta coffee in this world hail from Vietnam. According to Vietnam Department of Crop Production, Robusta accounts for 93% of the total coffee area (and accounts for 96% of the total production), while Arabica varieties are responsible for a few percent left. Vietnamese coffee is grown in regions between 500 and 1,200 meters above sea level, so the coffee flavor has a sweet smell. Main Robusta coffee growing provinces locate in the Central Highlands, including Dak Lak, Lam Dong, Dak Nong, Gia Lai and Kon Tum, while Arabica are grown mostly in Son La (Northwest), Nghe An, Quang Tri (Central), Lam Dong (Central Highlands).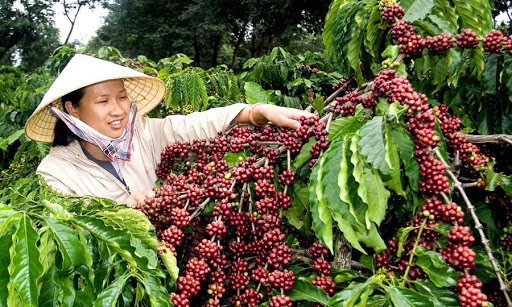 2. How are Vietnamese coffee processed?
The most popular processing technique in Vietnam is still the natural dry method after harvesting. According to this method, the coffee is dried under sunlight and then removed the husk or fruit. Nowadays, coffee farmers, producers and traders in the Central Highlands of Vietnam are increasingly using machines to dry the fruit, hence increasing the productivity.
Meanwhile, large-scale coffee producers use wet method. This is a popular processing technology today and is applied in many other countries around the world. Coffee fruits are removed the skin and pulp from the bean while the they are still moist. For instance, in Dak Lak province, 16 wet processing factories have been established with a total annual capacity of over 64,000 tons of products, ICO data shows.
3. Certification and documents required
As coffee is the main exporting product in Vietnam, manufacturers and traders here are not only experienced in cultivating and producing but also in exporting procedure. For exporting to market with strict safety standard, in terms of coffee cultivation technology for sustainable development, various Vietnamese coffee farmers have been applying advanced agricultural production technology to obtain national and international certifications, such as 4C (Common Code for the Coffee Community); VietGAP (Vietnamese Good Agricultural Practices); UTZ (UTZ Certified); and RFA (Rainforest Alliance). For other countries in the Middle East or India, many Vietnamese coffee manufacturers are certified with HALAL verifying that the products are processed and produced according to the requirements of the Qur'an and the Shari'ah law of Muslims. They make it easy for coffee to be exported to the overseas market and meet the global customer's requirement. Check out more about the quality certifications you must take into consideration when buying coffee from Vietnam.
4. Vietnamese Coffee beans classifications and its considerable impact on price
Regarding green coffee beans, Vietnam offer the following types with 2 main grades:
Robusta green beans washed/unwashed/honey with wet-polished or non wet-polished: grade 1 on screen No. 18, grade 1 on screen No. 16, grade 2 on screen No. 13;
Arabica green beans washed/unwashed/honey or non wet-polished: grade 1 on screen No. 18, grade 1 on screen No. 16, grade 2 on screen No. 13.
Below is a summary price comparison that you should take into consideration:
| | | |
| --- | --- | --- |
| Arabica | > | Robusta |
| Grade 1 on Screen no.18, no.16 | > | Grade 2 on Screen no.13 |
| Roasted coffee | > | Green coffee |
| Cultivation type: Organic | > | Cultivation type: Common |
| Wet-Processed Coffee, Washed Coffee | > | Natural Coffee, Dry-Processed Coffee |
| 100% maturity | > | 90% maturity |
| Wet-polished | > | Non wet-polished |
Viego Global – Your trusted sourcing partner in Vietnam
In order to provide a deeper insight on Vietnam's Coffee Market, we've created this series along with tips on how to select the best beans from Vietnam for your business. Jump to: 
Are you sourcing coffee green beans from Vietnam? Do you need a supply of good quality and at good price? If you want to connect with any qualified coffee manufacturers in Vietnam, please comment below so we could help you out easily. Being presence at the factory location, Viego Global has the capability to professionally source, manufacture and execute order providing maximum benefit to our clients in terms of delivering a wide range of products at the best competitive pricing. Please contact us HERE for further support!